---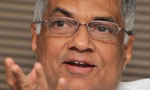 No one will be able to topple this government prematurely and do not get deceived by false statements made by conspirators, Prime Minister Ranil Wickremasinghe said on Saturday.
Both the President and the Prime Minister were present at the 19th national convention of Sri Lanka Muslim Congress (SLMC) in Ampara where they responded to the rally held by the Joint Opposition on March 17, 2016.
Prime Minister Wickremasinghe who took the opposition on said no one will be able to stop the development programs of this government. He said countries such as Singapore and India will assist the development of East while China will assist the development of Hambantota.
The premier said the government is faced with the task of paying the loans taken by the previous government which had spent those funds to construct presidential palaces. He said government wanted to handover these to investors to convert them into hotels but no one was interested in buying them.
Meanwhile, addressing the convention, President Maithripala Sirisena said this government will push its opponents to political wilderness and will take the country towards prosperity.
"I listened to someone who asked us to hand over the government to him while banging is hand on his chest. We know how this person ran the country very well as I worked with him and we won't be shaken by these chest banging" President Maithripala Sirisena said." he added.
The president said these leaders of joint opposition know about the international support this government is getting from the international community and cannot bear it up.
"They say we surrender to other countries when we get into agreements with various countries and let me assure that the government will never surrender itself to any country" president said. He said the people will be able to see the benefits of international agreements the government had got into in a year. (Yohan Perera)