---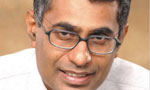 The Jathika Hela Urumaya (JHU) will not allow war heroes to be questioned by the international community under any circumstances as long as the party is a part of the government, Minister of Megapolis and Western Development Patali Champika Ranawaka said.
Minister Ranawaka made these observations at the JHU's People's Forum held at Ape Gama in Battaramulla on Saturday.
Emphasizing that the path of the United National Front is far from being a cake walk, the minister said the legacy of the previous regime continues to hamper the progressive moves of the present government.
"Even after being rejected by people at two consecutive elections last year the leaders of the Rajapaksa regime are over-ambitious to admit defeat. They think this country is their private property and try to regain power by hook or by crook. They can't stand someone else leading this country," the minister observed.
"The year 2020 is going to be a crucial one with two elections on the cards. It's the JHU and other broadminded patriots that would decide as to who would form the next parliament and be elected the next President," he added.