---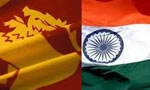 A study on the framework on the proposed Economic and Technological Cooperation Agreement (ETCA) to be signed with India had been carried out by an institution, whose head is an advisor to the Sri Lankan Government on the agreement, Parliament was told yesterday.
Minister of Development Strategies and International trade Malik Samarawickrama, who was responding to a question raised by, Chief Opposition Whip Anura Kumara Dissanayake said that the study on the agreement was being done by Institute of Policy Studies (IPS) headed by Dr. Saman Kelegama, who is also an advisor to the Sri Lankan Government on the agreement.
Minister Samarawickrama, who submitted the study report, said Dr. Kelegama had nothing to do with the study as it had been carried out by others at IPS.
He said the most important fact revealed in this study was that goods worth USD 6 billion had come into Sri Lanka from India as imports outside the frame work of Free Trade Agreement signed by the two countries in 2000.
The Minister said a framework agreement on ETCA had been sent to India and a response was expected in two weeks time.
He said the Government was willing to discuss the framework agreement with the all parties once Indian response was received.
Also he said the final agreement would be put to Parliament as well. (Yohan Perera)