---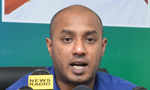 Agriculture Minister Duminda Dissanayake said today the monthly rental of Rs. 21 million inclusive of the rental for a separate vehicle park for the ministry at a new building in Rajagiriya was not that excessive compared to the rentals of the ministries at the World Trade Centre (WTC).
The Cabinet last week approved a proposal by the ministry to relocate it to a building in Rajagiriya at a monthly rent of Rs. 21 million.
"We didn't want to move out but we had to since we were asked to vacate the building to house the offices for oversight committees of Parliament," he told the Daily Mirror.
He said the ministry had earlier requested for a fourth-floor space at the 'Sethsisripaya' new building to house the ministry but they were not given the required space.
"Therefore, we have to move out to another spacious building with about 90,000 square feet. There was no favoritism in choosing the building," the minister said.
Minister Dissanayake said their intention was to house all the departments and authorities under the purview of the ministry located elsewhere in the new building.
"As a permanent solution to the issue, I have requested the Prime Minister to make provisions to construct a spacious building for the Ministry on the land which belongs to the ministry at Battaramulla," he said. (Lahiru Pothmulla)