---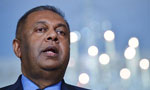 The Foreign Affairs Minister in his address at the meeting of the Governing Council of Community of Democracies in Geneva said the government was in the process of repealing the Prevention of Terrorism Act and introducing a new counter-terrorism legislation that is in line with contemporary international practices.
At the meeting held on March 2, Minister Mangala Samaraweera said the government, under President Maithripala Sirisena and Prime Minister Ranil Wickremesinghe's leadership, had been working closely with the international community, resurrecting strained relations with the United Nations and other traditional partners.
He said: "It is our firm belief that in this journey that we have undertaken, Sri Lanka requires the support and assistance of all her friends in the international community. This is in keeping with Sri Lanka's traditional, age-old persona, which for centuries has been an inclusive society that reached out to the world, guided by her geographic location at the centre of the Indian Ocean between East and West, and welcomed ideas from the outside world that enriched our society.
"The Community of Democracies must find ways and means of standing together to assist each other in times of peril, especially when faced by terrorism which threatens the fundamentals on which democracy is based.
He said moreover, when countries like Sri Lanka stand up to uphold democracy and pursue reconciliation and development despite sustained efforts by terrorists, extremists and potential despots to destroy democracy, the democracies of the world must come to their assistance through every means possible – including sharing experiences, increasing trade and investment, assistance for capacity building and institution building.
Minister Samaraweera further said a viable democracy is where citizen feel content and satisfied. Creating and maintaining a viable democracy is not easy. I believe this to be true for the developed as well as the developing countries, although the nature of the challenges that each of us face may be different.
"Flaws in our systems and weaknesses can lead to disillusion with politics among people. This is natural. But maintaining the sustained interest of the public is important for a democracy to thrive as the people are an integral part of a democracy. Without fundamental human rights, strong institutions, right education, economic development, ensuring constant safeguards against corruption and robust checks and balances, democracy will always be in peril. And we must help each other in our mutual effort to safeguard and strengthen our respective democracies", he said.