---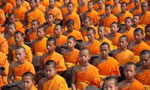 There are 22,254 Tamil Buddhists and eleven Tamil Buddhist monks in Sri Lanka, Parliament was informed last morning.
It was revealed that there are 470 Tamil Buddhists in the North.
This was revealed by an answer tabled by Chief Government Whip Gayantha Karunatilleke in response to an oral question raised by MP Buddhika Pathirana in the House.
According to the answer the facts were based on a census carried out by the Department of Census and Statistics in 2012.
It was also revealed that there had been a Tamil Dhamma school up to 2013 in the North, where 80 students were taught.
Arrangements were being made to relocate the school the house was told. (Yohan Perera)