---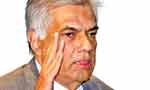 Prime Minister Ranil Wickremesinghe today rejected allegations made by the Government Medical Officers Association (GMOA) that his office had pressurized the Criminal Investigation Department (CID) to carry out investigations against its members and some media organizations.

Making a statement, Mr. Wickremesinghe said the allegation was far from being the truth. He said he had inquired from the police and the latter had informed him that someone had lodged a complaint against the GMOA and they carried out an investigation. He said the police informed him that the complaint they received said a Bill was to be presented to Parliament to amend the Medical Ordinance in line with section 67(A) of 'Establishment of Special Registry and introduction of procedure for foreign medical specialists' which the Prime Minister said was a certain document. "The police informed me that no such Bill had been presented to Parliament according to its investigation," he said

"The GMOA has accused me of deploying CID officers to spy on its members. The GMOA has no business to get involved in the agreement with India. We asked for a mandate to create employment opportunities when its officers were running behind former President Mahinda Rajapaksa. If the GMOA talks in the way they do I am ready to respond to them politically. They went shopping for the former President. I have facts to prove my point. GMOA President Dr Anuruddha Padeniya met me some time back and they told me not to talk about it. What right do they have to make such a request from me?

Mr. Wickremesinghe was also critical of some TV channels, the print media including the Daily Mirror and made the following statement on them
"This story on GMOA was carried by the Daily Mirror under the title "PM's office pressurized CID". They should have first inquired from the CID. All at the Daily Mirror also went behind Rajapaksa. They belong to him. I am saying one thing. I have given time to adjust according to the new framework. If they cannot adjust Kesara Abeywardene can go home. Derana also started the game yesterday.
Kesara Abeywardena at that time wrote I should leave the party leadership. I have given time for them to correct themselves. If they don't do it Kesara Abeywardene has to go home. We cannot allow this nonsense to continue, Even Derana has started to play games once again. If Derana becomes pro Rajapaksa we will have to disclose all their thefts. They call women bitches. They should discipline themselves. We won't allow anyone to take away the mandate given to us".
"People gave us a mandate to create one million jobs, to go for trade agreements. If the Daily Mirror or Derana try to stop our programme of providing employment we will take to the street against them," he added
He said the UNP has been invited to participate in a procession organized by the youth and professionals of the country and the party has accepted it and will take part in it.
The Prime Minister said the government would go ahead with the programme of providing one million employment opportunities and will go for trade agreements with Japan, China, Singapore, and Europe. "Anyone could criticize us if we fail in this ," he added. (Yohan Perera)