---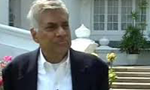 Prime Minister Ranil Wickremesinghe yesterday made it clear that his government was not averse to international participation in investigating the alleged war crimes in his country, but said "final judgment will be made by the internal judicial system."
Wickremesinghe who was in Guruvayur to offer prayers at the famous Sree Krishna Temple made these observations while talking to reporters.
The Sri Lankan prime minister said representatives of the neighbouring countries like India, Pakistan, Bangladesh and Afghanistan as well as that of the US and human rights organisations can participate in the discussions on the war crimes in Sri Lanka.
He said Sri Lanka wanted to ensure that those responsible to the death of the civilians whether they were military personnel or the organizations like the LTTE, adding, a UN investigation had earlier said it was possible up to 40,000 people had been killed in the final five months alone.
"It was not clear how many of them were killed by the (Lankan) army or whether the LTTE had moved the people to the war zones which led to the death of some of them. We may not have the full expertise to identify the exact factors that led to those casualties. So international participation is welcome for determining such causes," the Sri Lankan prime minister said.
"But the right to make the final judgment that was responsible for the deaths and on the nature of punishment should rest with the judicial system of Sri Lanka. The judicial system in Sri Lanka was in shambles earlier, but now it is returning to normal. The sovereignty of each country must be respected in such issues," he added.

Replying to questions, he said civil war-ravaged economy of Sri Lanka is limping back to normal. But the economic crisis being faced by several countries in the backdrop of the falling oil process is affecting Sri Lanka as well.

Wickremesinghe was accompanied by his wife Maitree Wickremasinghe. They also offered prayers at the neighbouring Mammiyur temple as well.

Elaborate security arrangements were been made in connection with his visit. About 1,000 policemen have been deployed for providing security cover to the visiting VIP.
He is expected to fly back to Sri Lanka from Cochin by about 4pm on Friday.(Times of India)