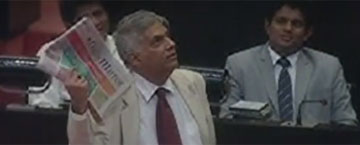 Prime Minister Ranil Wickremesinghe on Thursday denied reports that -- at an interview with Channel Four -- he had said the Sri Lankan Government had not ruled out a foreign judicial inquiry on alleged human rights violations in Sri Lanka.
Mr. Wickremesinghe said in Parliament he had never told such a thing during the interview he gave to Channel Four.
Mr. Wickremesinghe said some media including Daily Mirror and Island are unnecessarily concerned about the probe on alleged human rights."What is the pain Daily Mirror and Island have on an international probe," he asked.
He said the government would never allow an international war crimes probe and clarified the recent statement made by President Maithripala Sirisena that foreign judges are not needed for the probe saying the president only meant that most of the activities with regard to a probe will be done by local experts. "Myself, the President and the others in the government are of the same view," he said.
However, he said assistance of experts such as Desmond De Silva will be sought.
The media came under heavy criticism by Prime Minister Wickremesinghe who said the local media and TV channels in the country are engaged in hunting for some people.
"Samahara madya dadayamaka yedila," (Some media are on a hunt for certain people) he said.
Responding to the news item published in the Daily mirror on Thursday under the heading.
(Yohan Perera)
CHANNEL 4 INTERVIEW