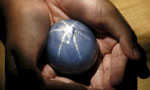 The owner of the world's largest blue sapphire, which he says is worth more than $100 million, said on Thursday he is deciding whether to auction the Sri Lankan gem or display it as an international attraction.
The polished oval sapphire is as large as a person's palm and weighs 1404.49 carats (281 grams), according to a local industry body that certified it, the Gemmological Institute of Colombo.
"I would love to keep it and have it exhibited and share it with the public," said the owner, who requested anonymity for security reasons, "but I have to balance it out with my security concerns."
"My estimate (of its value) is about $100 million," he told Reuters during an interview in Sri Lanka, but declined to say exactly how much the stone cost when he bought it in September.
In 2014, a 392.5 carat Sri Lankan sapphire known as the "Blue Belle of Asia" sold for 16.96 million Swiss francs ($16.94 million) at a Swiss auction.
The National Gem and Jewelry Authority of Sri Lanka confirmed the stone was the world's largest blue sapphire. It was mined in Sri Lanka's central district of Ratnapura and is a classified as a natural corundum un-heated blue star sapphire.
Local legend says Sri Lanka's world-famous blue sapphires were formed by the tears of Adam after God expelled him from paradise.
The three largest blue sapphires have all been found Sri Lanka. The stone that was previously the largest star blue sapphire weighs 1,395 carats, the National Gem and Jewelry Authority said.
Britain's Princess Diana wore an engagement ring made from a blue oval sapphire from Sri Lanka encircled with diamonds, while Prince William's bride Kate Middleton wore a similar sapphire and diamond cluster, also using a Sri Lankan stone.
Sri Lanka exported $381.2 million worth of gems and jewelry in 2014, government figures show. It is famous for precious stones, especially sapphires, which come in shades of blue, pink, yellow, violet, white, green and orange.
(Reuters)