---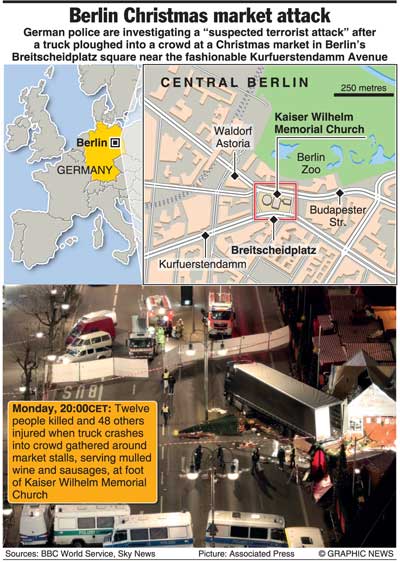 A Pakistani asylum-seeker suspected of ploughing a lorry into a Berlin Christmas market and killing 12 people may not be the right man, police said on Tuesday, sparking fears the real killer could be on the run.

As the shell shocked German capital reeled from the country's deadliest attack of recent years, doubts emerged over whether the man detained overnight actually committed the atrocity.

Twelve people were killed and almost 50 wounded, 18 seriously, when the lorry tore through the crowd on Monday, smashing wooden stalls and crushing victims, in scenes reminiscent of July's deadly attack in the French Riviera city of Nice.

"It is indeed uncertain he was the driver", Berlin police chief Klaus Kandt told reporters about the Pakistani man while forensic work and questioning continued.

Berlin police tweeted that "we remain especially vigilant", urging Berliners to do the same.
German Chancellor Angela Merkel, who was later set to visit the scene near the iconic Kaiser Wilhelm Memorial Church, said the deadly rampage was believed to be a "terrorist" attack.
Merkel said if it was confirmed that the killer had been part of the refugee influx, this would be "particularly sickening in relation to the many, many Germans who are involved every day in helping refugees".

Interior Minister Thomas de Maiziere had said the top suspect was a Pakistani man who had arrived via the so-called Balkan route last New Year's Eve and was staying at a Berlin refugee shelter.
BERLIN AFP/ Dec20, 2016-