---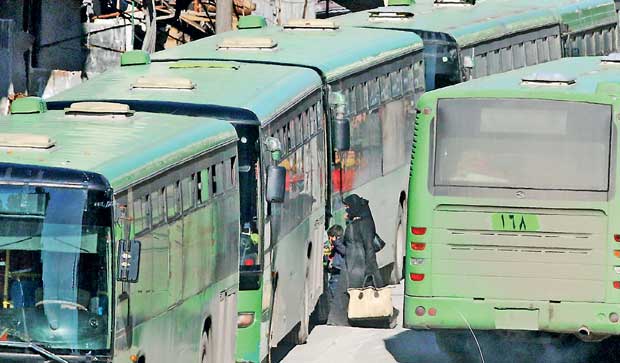 People get on buses to be evacuated from al-Sukkari rebel-held sector of eastern Aleppo, Syria December 15, 2016. (REUTERS)
An operation to evacuate thousands of civilians and fighters from the last rebel bastion in Aleppo was under way on Thursday, part of a ceasefire deal that would end years of fighting for the city and mark a major victory for Syrian President Bashar al-Assad.

The International Committee of the Red Cross said the evacuation of around 200 wounded people had started. Russia, a major ally of Assad, said 5,000 Syrian rebels and family members were being brought out of eastern Aleppo.

The convoy of 10 ambulances and at least 17 green buses with nearly 1,000 aboard drove from the Ramousah district next to the rebel-held area of Aleppo, which was besieged for months by Syrian government forces, a Reuters reporter on the scene said.

Syrian state television said those leaving were opposition fighters. Rebel officials have said that civilians who wish to leave will also be able to do so as part of the ceasefire and evacuation deal. Footage of the buses appeared to show that most of those inside were young men.

The evacuation agreement would include the safe passage of wounded from the Shi'ite villages of Foua and Kefraya near Idlib that are besieged by rebels, according to a military media unit run by Hezbollah, a group allied to Assad. A convoy set off to evacuate the villages on Thursday, Syrian state media said.
ALEPPO REUTERS Dec 15