---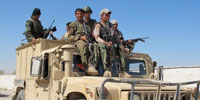 KUNDUZ, AFP, Aug 21, 2016 - Afghan forces have recaptured a district that had fallen briefly to the Taliban, officials and residents said Sunday, after thousands of people fled their homes in Afghanistan's northeastern Kunduz province.
Khan Abad district, which is around 30 kilometres east of Kunduz city -- the provincial capital where militants last year scored their biggest ever victory -- had fallen to the Taliban after they launched a pre-dawn attack on the district centre on Saturday, according to local officials.
Several hours later Afghan special forces were deployed to the area -- a key route to Kunduz city -- to retake the district.
The district was recaptured by government forces on Saturday evening, according to Sayed Mahmood Danish, a Kunduz governor spokesman.