---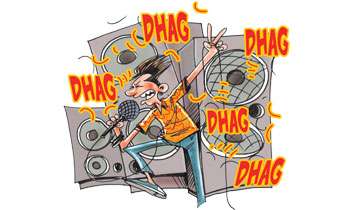 It was a musical show organized by the youth of a town, where the artistes consisted of popular reputed singers.
The organizers had allowed some youth in the town who were amateurs also to come on stage and display their skills in singing.
The amateur who stepped onto the stage at the end of the show started to display his talents by singing a much quick tempo song, but half way his voice became silent and instead the thumping thud sound came out of the speakers that were on the stage. The organizer observing this unusual sound quickly began to check the sound system, while the musical band continued. In the rush the youth who was at the mike rendering his song quickly alighted from the stage. His friends who got round him began to congratulate him on his debut, and said if not for that upset in the sound it would have been a super hit.
The friends were in for a surprise when the songster declared it had nothing to do with the sound, I forgot a line of that song and made a sound with my mouth to time up with the music the band was playing and completed my act. (Christopher Cyprian)