---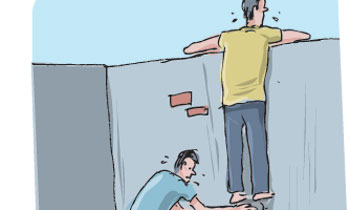 A bachelor who was a peeping tom and used to watch women bathing on the sly along with a friend was forced to undergo an embarrassing situation recently.
On this particular day several women were bathing at the well that was surrounded by a brick wall. The two peeping toms as usual placed their coconut branch against the wall and were about to engage in their usual 'thrill'. They had been drinking. One of them climbed up while the other held on to the coconut branch to support his friend. They took turns doing this.
The man holding onto the coconut branch suddenly felt something behind him and looking over his shoulder he spotted a dog that started to come menacingly toward him. In his haste to avoid getting bitten by the dog he let go of the coconut branch, causing his friend, who was 'busy' on top, to lose his balance. As he was about to fall over his friend below regained his composure and tried to grab him. However he was only able to grab hold of his shorts thereby causing him to fall down naked into the midst of the women below, causing them to get alarmed and then become angry when they realised what these two perverts had been up to.
They proceeded to give this peeping-tom just what he deserved, a good hiding. (Upendra Priyankara Jathungama)