---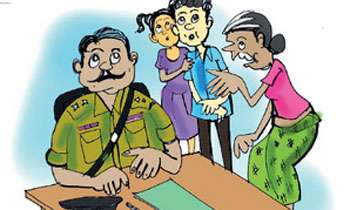 A teenage love story ended on a gloomy note when the young couple was summoned to the Yakkalamulla police station recently.
The 18-year-old pretty girl had given up schooling and sought a job as a sales assistant in a supermarket. Within days, another young guy joined the staff and before long these two became inseparable lovers.
The boy had insisted that his mother would not endorse this affair, but the girl was more adamant that they should marry at any cost and that she was willing to undergo any hardship with him.
Then came the day when they decided to elope.
After a few days, police however summoned the young couple to the Yakkalamulla police station, after the boy's mother lodged a complaint.
During the inquiry at the police station, the boy revealed that he was only 16 years old and would have to wait for two more years to marry the heart-broken girl who was stunned by the disclosure.(J. K. L. Chaminda)