---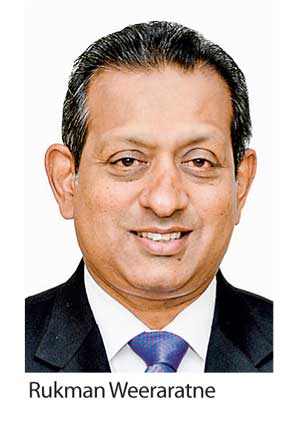 Rukman Weeraratne bears the credentials of a marketer who has achieved outstanding success in a stellar career spanning over 30 years. Having served in insurance as a senior marketer, Rukman has been widely recognized for his contribution to insurance and to the marketing sector in Sri Lanka.
Having been recognised as one of Asia's 50 best marketing professionals in 2016, an award he won based on his extensive achievements acknowledged by an international panel of judges, Rukman wears his laurels well as he takes leave of his well known sector of insurance and enters a new industry, hospitality.

"It presents a unique set of dynamics as a growing sector with considerable potential," says Rukman who has just taken over as Assistant Vice President and Head of Sales for Cinnamon's city hotels, "Cinnamon is an established brand in the industry and I believe that I can bring my knowledge and experience to the areas of business development initiatives, sales growth, people development and other aspects of marketing."
Rukman says that one of the reasons he chose to move out of insurance is that those whom he had trained and motivated are today heading their respective companies in marketing and distribution– over 10 of them. "Having guided them and watched them do well in their careers, I believe it is not right for me to compete with them – they have learnt from me and have been able to put that knowledge to good use." he smiles, " It's time for me to move on to a new sector."

The hospitality sector today is experiencing exceptional growth and is heading for expansion as Sri Lanka gains momentum as a top destination. The hotel sector is expanding as visitors to Sri Lanka increase, registering a tremendous growth within the industry. Having sharpened his marketing skills in many senior positions in marketing, Rukman possesses significant expertise that would be put to good use in strengthening the marketing potential of the Cinnamon's city hotels.
With global brand names in hospitality entering Sri Lanka, it is undoubtedly a time of exciting possibilities for the sector, he reiterates. The Cinnamon's city hotels will be taken to the next level of growth and expansion as many opportunities open up and new and innovative measures adapted in the market.

"It's good that established brands are entering Sri Lanka – it means that Sri Lanka as a destination will be promoted widely. It's a great opportunity for us; we are already known as one of the best hotel chains in the region and we hope to build on that as well." he points out.
Rukman believes that bringing new insights and new thinking into reaffirming Cinnamon as a preferred brand would consolidate and open up new prospects within the industry, increasing the sales potential and business growth.