---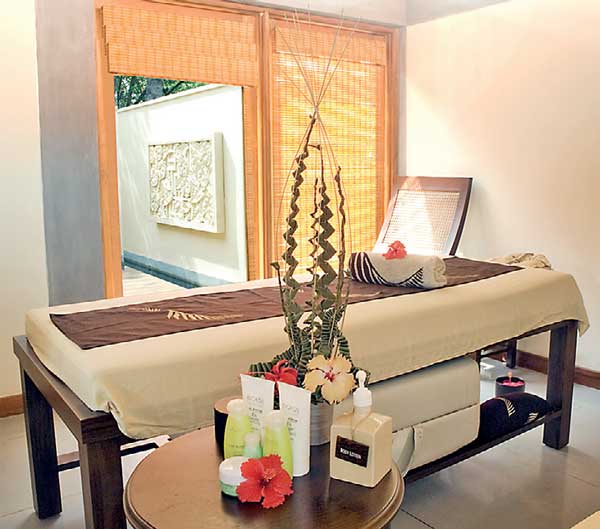 Have you ever wished that you could enjoy all the perks of a luxury boutique hotel without having to share the property with strangers? For a limited time only, Serene Pavilions invites you to do exactly that: here is your chance to book the entire hotel for your exclusive use! Gather your nearest and dearest - be it your friends or your family - and unwind to the sound of the ocean, sip a cool margarita whilst lounging in the endless gardens or frolic in the pool and enjoying the island life. All this and more can be found at Serene Pavilions,
a breathtaking five-acre property perched on the glittering shores of the Indian Ocean in Wadduwa. So here's what is on offer: the entire five-acre property for your exclusive enjoyment - consisting of 12 individual pavilions, each offering over 2500 square feet of sumptuous living area, including private plunge pools with deck areas and opulent bathrooms with Jacuzzis for two. It certainly does not stop there: the indulgence continues with round-the-clock butler service to cater to your every fantasy and whim. Thanks to its proximity to Colombo and Galle, it is an ideal haven to escape to for a few days. If you have been thinking of having a family reunion or getting together with your closest friends to enjoy some fun in the sun, then Serene Pavilions is the place to be! The swimming pool of Serene Pavilions is a focal point for the hotel.
The submerged Jacuzzi beds are the last word in watery relaxation, the pool is long enough for a serious swim, the loungers plumped by thick cushions but also for those wishing to admire the view without the heat of the sun, a quaint Balinese Balé provides respite and shade. Unlike other hotels where you have to share your pool with strangers, this offer at Serene Pavilions permits you to be surrounded only by your family and friends, making this an uninhibited getaway. Serene Pavilions knows that for spa lovers a vacation just isn't complete without some regimented relaxation. Allow yourself to be pampered by the expert hands of its therapists and let the experience be completely tailored to you: music and scents are adjusted according to your preference. Truly blissful! Flexibility is also key when it comes to wining and dining - you can choose your mealtimes to suit your best and you can even have dinner in the middle of the night!
The kitchen is not confined to one style of cooking, instead throwing its arms open to embrace fusion cooking, to create something new and exciting for your palate. Of course, if you wish to take a meal by the pool, on the beach, or in the garden, then that is no problem for Serene Pavilions and the levels of service and attention to detail will remain of the same high standard. You can even invite more friends and family who are not staying at the hotel to spend an afternoon or evening with you, in the safe knowledge that they will delight in all the fabulous services and facilities that Serene
Pavilions has to offer. So what are you waiting for? Pick up the phone and call your family/friends for an unforgettable escape to paradise, and experience serenity at its best. Memories are made of these! Seasonal special offer: whole property hire of Serene Pavilions for a maximum of 30 in-house guests and further 10 guests from outside. Offer available until October 31, 2016.