---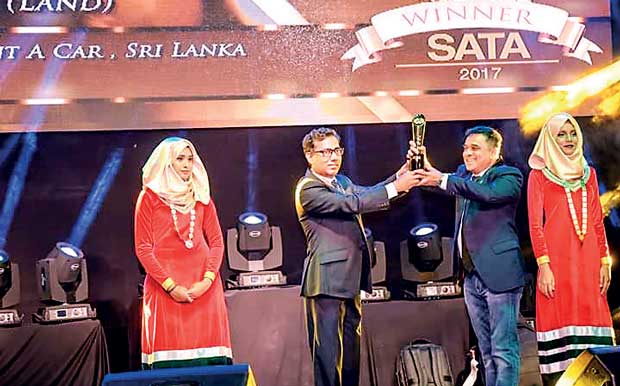 The South Asian Travel Awards, the first-ever regional travel awards endorsed by multinational associations with the aim of encouraging and raising service standards within the regions of the tourism industry, was held on 28 October in Addu City, Maldives.

While many prestigious companies took to stage to receive awards, Sri Lanka's Casons Rent-a-Car Ltd. received two awards, being the first transport/rent-a-car company in Sri Lanka to achieve such an accolade.

Run by Managing Director Zakir Ahamed and Director/CEO Zufer Ahamed, the company was awarded a Gold award as South Asia's Leading Tourist Transport Provider for 2017 and a Silver award under the category 'Regional Best Rent a Car Company 2017.'

Casons was established in 1987 and has been in the industry for over 30 years. It is the oldest vehicle rental service providing company to both locals and foreign tourists, offering transport service varying from small budget cars to luxury limousines and coaches with chauffeurs or self-driven options.
Under its motto 'Excellence Unmatched,' the company continues to strive in success by maintaining consistency and excelling in providing the highest levels of customer service quality and satisfaction with highly personalised service to all customers.

Findmyfare.com Sri Lanka, Avis India, Princy Travels India, Bhutan Exotic Travel, Hotel Visit Nepal, India City Walks, Inner Maldives Holidays, Intersight Tours and Travels Ltd India, Iris Holidays India, Marvel Tours India, Moodhu Holidays Maldives, Pacific Travel and Holidays Nepal, Raveendra Hospitality Ltd, Ernakulam Kerala India, Spiceland Holidays and Entertainments India, Travnet Tourism Services Ltd India and Uday Tours India were among the other nominees at the award ceremony.