---

Having conducted three rounds of public consultations, capital market watchdog the Securities and Exchange Commission (SEC) last Friday issued a directive on minimum public float as a continuous listing requirement effective from January 01,2014.

As Mirror Business last week reported, the new rules will require a Main Board listed company to have a minimum of 20 percent public free float, scattered among at least 750 shareholders. Else, the Main Board listed companies should have shares having a market capitalization of Rs.5 billion in the hands of at least 500 shareholders, while maintaining a minimum public holding of 10 percent.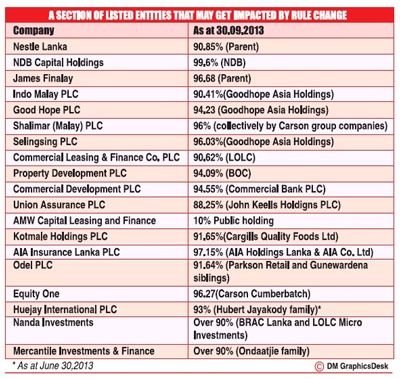 In the case of a Diri Savi Board listed company, the public float requirement stands at 10 percent and it should be scattered among at least 200 public shareholders.

According to SEC Deputy Director General and Officer in Charge Dhammika Perera, there will be about 70 companies out of the 288 listed companies who will have to adjust their free float to comply with the new rules.

Although the SEC may consider extensions or exemptions to the rule on a case-by-case basis if such applications were received, the regulator said non-compliance would result in sanctions by way of publication of a notice of malfeasance, suspension of trading or mandatory delisting.

Further the listed companies having public holdings below the specified levels are also required to submit a report on the current distribution of shares as at the effective date, on or before March 31, 2014 both to the Colombo Stock Exchange and SEC.

According to the SEC, the new rules were introduced with the objective of promoting a liquid and transparent market with a better price discovery mechanism.

The SEC however has provided transitional provisions for all companies already listed in the Colombo bourse which do not meet these minimum thresholds as of the effective date.

As such, a Main Board listed company should increase its public free float to 15 percent by December 31, 2015 and this must be in the hands of at least 500 public shareholders where public shareholding in not limited to shares held by the government, state pension funds and retail shareholders who are not excluded by the SEC under its directives issued on August 23 and October 11 in 2013.

In case of a Diri Savi Board listed company, a minimum of 7.5 percent of stake must be in the hands of at least 100 shareholders by the end 2015.

While SEC might grant extensions (up to a maximum of two, 12 months each) for an entity to maintain a low percentage for a further specified period, granting of exemptions will be considered provided such a lower percentage is sufficient for a liquid market, including whether there are reasonable grounds to expect the public holding to reach the required threshold at the end of the second extension period if granted.