---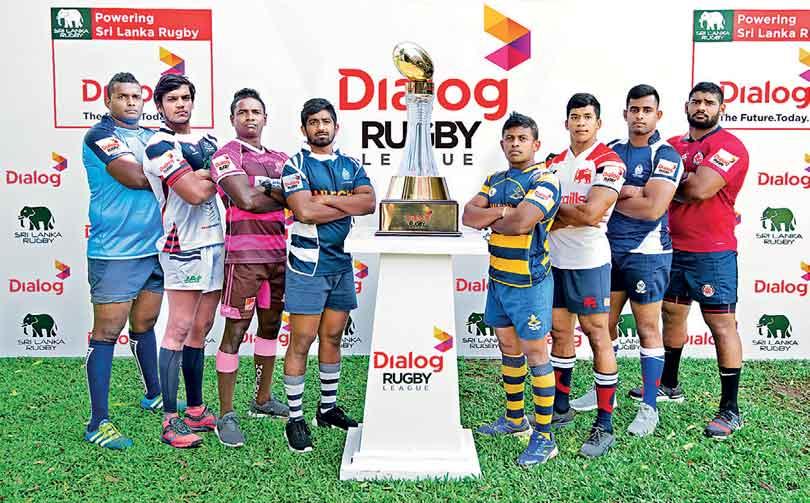 All captains with the trophy
Sri Lanka's top eight rugby clubs, Kandy SC, CR and FC, CH and FC, Havelock SC, Police SC, Army SC, Navy SC and Air Force SC, will vie for the coveted Dialog Rugby League 2019/20 commencing on Friday (29).

Navy SC will scrum down against a strong Havelock SC at Welisara while on the same day CH and FC will host Army SC at the Racecourse Grounds in Colombo.
The top four teams after the Dialog Super Round would proceed to play in the Cup Championship while the bottom four teams would fight it out for the
Plate Championship.

As last year, the teams ranked number five to eight during the 2018/19 Dialog Rugby League - Police SC, Army SC, Navy SC and Air Force SC are permitted to play one foreign player each during the Dialog Rugby League 2019/20 season.

The Tournament points earned up to the completion of the second-round will be carried forwarded to the Dialog Supper Round.

The teams ending up with the highest tournament points will be crowned as the Dialog Rugby League Cup Champions and the Dialog Rugby League Plate winners.
Meanwhile, this year Dialog Rugby League has introduced a Most Valuable Player of the Match Award.

In the 2018/19 season, Kandy SC stamp their authority yet again as they beat the favourites Havelock SC to retain the championship for a record 20th year and also won the prestigious Clifford Cup Knock-Out Tournament for the sixth successive year.
The captains
Kandy SC (Nigel Ratwatte), CR and FC (Omalka Gunaratne), Havelock SC (Mithun Hapugoda), CH and FC (Rohitha Rajapaksa), Army SC (Manoj Bandara), Navy SC (Richi Dharmapala), Air Force SC (Ranuka Medegedara) and Police SC (Chanaka Harischandra).