---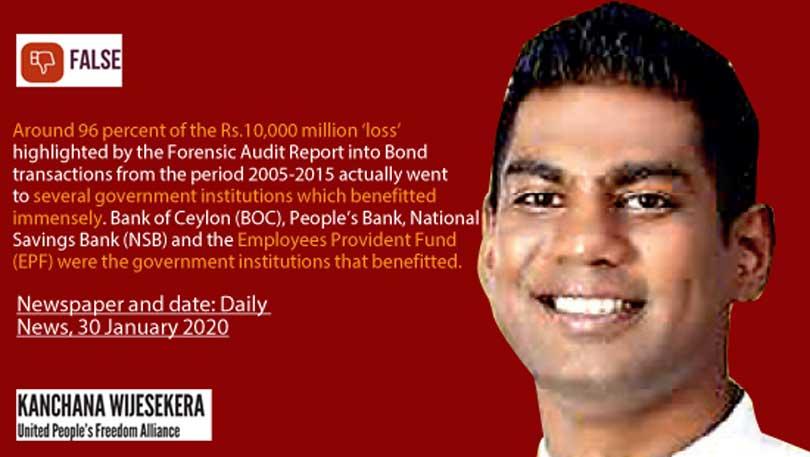 To assess this claim FactCheck consulted Report 1 (of the 5 reports) from the forensic audit at the Central Bank of Sri Lanka. It investigates the issuance of treasury bonds from January 2002 to 28 February 2015.

Counterparties to the transactions are reported only for losses attributed to the sale of bonds through "direct placements" (not auctions). These losses are estimated at LKR 10,471 million.
Contrary to the MPs claim, government institutions are the counterparty to only 34.22% of the 10,471 million. The 96% claim derives from counting the EPF as a government institution. However, the EPF funds are designated in individual accounts that belong to private citizens in formal employment, not the government; the government serves only as the custodian/administrator of the EPF.

Further, it cannot be claimed that government institutions, and not private parties, were the sole beneficiaries of those transactions amounting to 34.22% of the estimated loss.
This is because government banks as primary dealers could have carried out the transaction on behalf of private parties. For example, in the 2015 February bond scandal, the parliamentary COPE committee identified the private company Perpetual Treasuries as the beneficiary for 60% of the value transacted by the Bank of Ceylon – which acted as a proxy.

The MPs claim is that 96% of the losses caused to the government treasury, through the 2002-2015 direct placement bond transactions, were accrued to government institutions, thus negating the materiality of the loss. This is false on two counts. First, because only 34.22% were transacted by government institutions (the EPF does not belong to the government); second, because there is no information to suggest that those government institutions were not transacting on behalf of private parties, as they have been known to do.
Therefore, FactCheck classifies this statement as FALSE.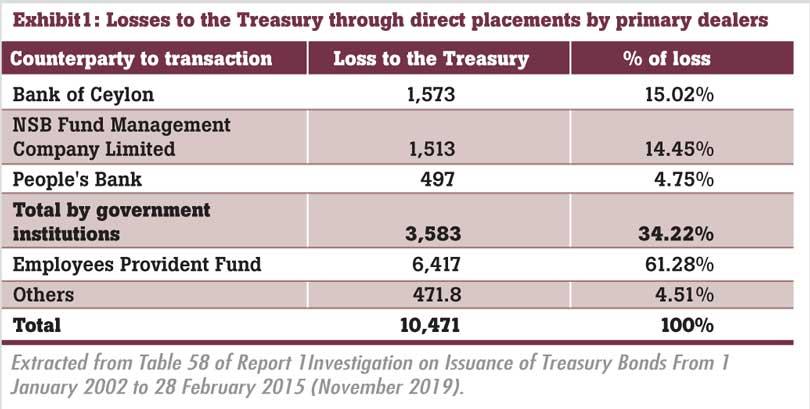 FactCheck is a platform run by Verité Research.
For comments, suggestions and feedback, please visit www.factcheck.lk.