---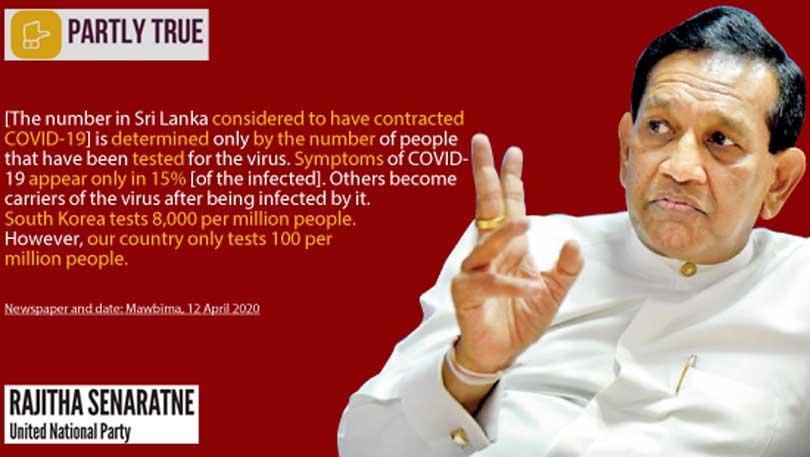 Former Health Minister Rajitha Senaratne made the overall claim that the number of people reported as having Covid-19 in Sri Lanka is a significant underestimate due to three reasons.

This FactCheck evaluates the former minister's overall claim by evaluating the specific reasons and facts provided in support of the overall claim.
1.Only tested and confirmed cases are reported, those who are infected but not tested are not counted – The former minister is right in this reason as the statistic of confirmed cases significantly undercounts the number of infected cases according to numerous global studies on the spread of Covid-19.

2.Only 15% of those infected develop symptoms of Covid-19, while the others can be infected carriers without showing symptoms – Asymptomatic carriers may not be tested. However, because of the preliminary and limited nature of the data available among the several studies done, it should not be possible to assert such a number conclusively (details on studies available in longer version on www.factcheck.lk). Currently available studies show that many people who test positive don't show symptoms (the estimates are in a wide range from below 20% to above 80%). WHO also suggests that 75% of such cases can go on to develop symptoms later. Therefore, the claim of 85% having no symptoms at all could be considered a significiant overestimation on the available information at present.

3.Sri Lanka has a low rate of testing at 100 per million people, in contrast to South Korea which has tested 8,000 per million – The figures cited by the minister are correct as of 31 March 2020 – when the relevant statistics for Sri Lanka and South Korea were 104 and 8,008, respectively.

One of the three reasons provided by the minister is a significant overstatement of the available evidence. However, the overall claim that the number infected in Sri Lanka would be much larger than the number of reported cases is supported by his reasoning. Therefore, we classify the minister's statement as PARTLY TRUE.
FactCheck is a platform run by Verité Research.
For comments, suggestions and feedback, please visit www.factcheck.lk.