The day the well- known Buddhist monk began his hunger protest, the two governing ones who found themselves embroiled in a crisis, met in a private residence of another governing one in an apartment tower in the city outskirts.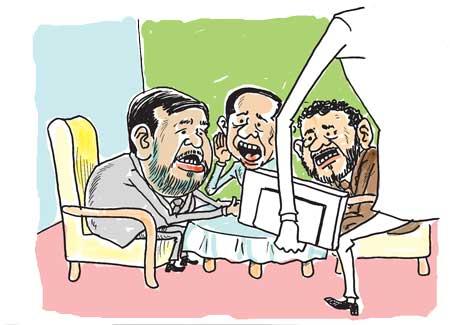 While the duo was engaged in a serious discussion, the purohita who was facing a no-confidence motion too joined them. The trio later decided that it would be better for them to resign their positions before the situation turned for the worse.

Having taken this important decision, they switched over to small talk, when a secretarial one from a top office called on them. It soon transpired that this secretarial one had come bearing a message from a very high political authority.

The trio later talked with the secretarial one for a short while and the outcome of the talk with the visitor was to change their earlier decision to resign.

Later, the fast by the monk triggered a big uproar in the country and in a day or two the situation turned so grave, not only the governing ones, but all the purohitas of the community concerned had to resign to head off a possible national crisis.