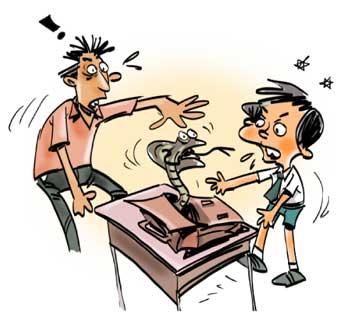 By Aneesha Manage
An incident was reported from Tangalle where a cobra had to be extracted from the bag of a school-goer for safety reasons.
This cobra had been inside the school bag of a grade three student of a well-known school in Tangalle. The student, who hailed from the Angunakolapelessa area, came across the serpent when he put his hand into the bag to take out his lunch box during the interval.
When the child informed the teacher in charge of the snake inside his bag, she immediately got the assistance of several parents who were present in school at the time to remove the creature from the child's bag. The snake, a cobra, was then removed safely from the school premises.