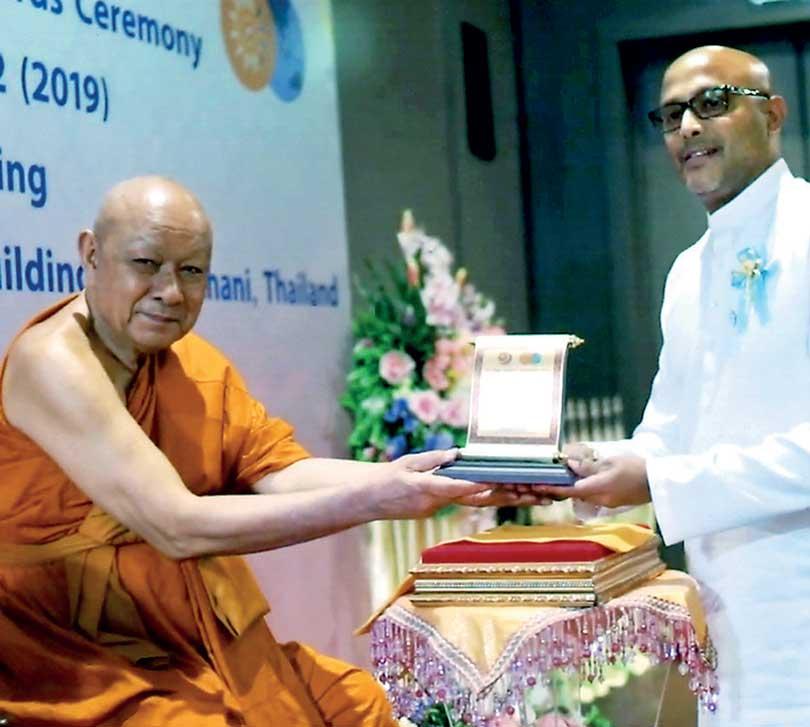 Mr. Malalasekera receiving his prestigious award from the ecclesiastical Pathumthani Governor and Honorary president of the World Alliance of Buddhists, Most Venerable Somsak Chatintaro Maha Thera
grandson of eminent Pali scholar and a world renown Buddhist leader Professor Gunapala Malalasekera

exemplary Buddhist leadership, whose devotion and dedication to the prosperity of Buddhism and creating world peace and harmony throughout the world
Mr. Ashan Malalasekera, the Founder and the Chief Executive Officer of the Malalasekera Foundation received the Global Buddhist Ambassador Award from the World Alliance of Buddhists based in Thailand on Vesak Day on May 18, at an International Award Presentation ceremony, held at the Global Buddhist Building (the Master Nun Chand Centenial Building) at Patumthani in Thailand.

Recognising Mr. Malalasekera's exemplary Buddhist leadership, whose devotion and dedication to the prosperity of Buddhism and creating world peace and harmony throughout the world, the World Alliance of Buddhists was delighted to present this prestigious and outstanding award to honour and dignify the admirable service for the betterment of Buddhism
Mr. Ashan Malalasekera is a grandson of eminent Pali scholar and a world renown Buddhist leader Professor Gunapala Malalasekera, who has initiated and inspired a meeting of global Buddhist leaders in Sri Lanka in 1950 resulting in the inauguration of first international Buddhist organization in the world, the World Fellowship of Buddhists and was elected as its founder President.

Mr. Ashan holds a BA degree at Lycoming College and MA degree at University of New South Wales in Australia. He is the chairman of Arinma Holdings and holds a position as a Director in several other leading companies in the island.

He was accompanied by his wife Mrs. Swasha Malalasekera, Miss. Manoj Divituragama, National Co-ordinator and Ratnasiri Mutukumara, International Relations Officer of the Malalasekera Foundation to this international award presentation ceremony at Patumthani in Thailand.