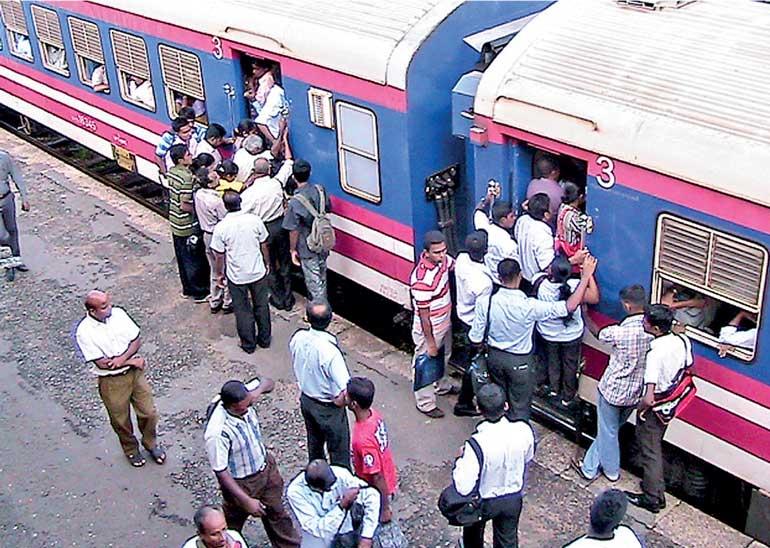 By Kusal Chamath and H.M.Dharmapala

Passengers travelling by train in the southern coastal line from Panadura and Moratuwa during peak hours expressed concern about inconvenience caused by congestion on the metropolitan trains. They said travelling by train was now an ordeal and that they were fully exhausted when they got down.

"The metropolitan train service between Panadura and Colombo is very poor and we attempt to squeeze ourselves into the fully packed trains from Aluthagama and Galle. Several passengers travelling by evening trains had even fallen down the foot-boards and died. After the 9.35am train from Panadura the passengers travelling to Colombo have to wait till the 11.15 train arrives from Kalutara. This train is over crowed with more than 1,000 Chinese tourists travelling to Kollupitiya to enjoy the sight of the sea. It is with great difficulty that we squeeze in ourselves to find a foothold even on the foot-board. Hundreds of passengers hang on to the foot-boards without least concern about its danger. When we get down the train we are fully exhausted and not in a position to work." Passengers said.

They suggested that the power set train starting from Kalutara at

10.55 am and arriving at Panadura at 11.15 am should be replaced with a long train with spacious compartments starting from Panadura at 9.35am. They pointed out that few passengers travelled by the 9.35am train from Panadura and that it could be replaced with the power set train.

Meanwhile, passengers travelling to distant areas by the Beliatta bound express leaving Maradana at 5.50pm requested the authorities to refrain from stopping at Moratuwa. They pointed out that the train gets packed with passengers travelling only up to Moratuwa and that passengers travelling down south get left behind not being able to board the train at Kollupitiya and Bambalapitiya due to the crowd.

"When the train calls at Colombo Fort it is already crowded and it is fully packed with thousands of passengers travelling on foot-boards after leaving Slave Island. Passengers travelling to distant areas are not able to board the train at Kollupitiya and Bambalapitya railway stations. The Beliatta bound express should run with no stop over at Moratuwa," they said.
Passengers from Moratuwa and Panadura requested the authorities to operate several more trains between Panadura and Maradana during peak hours to avoid the prevailing congestion in trains while those travelling to distant areas down south could use the Beliatta bound express in the evening.