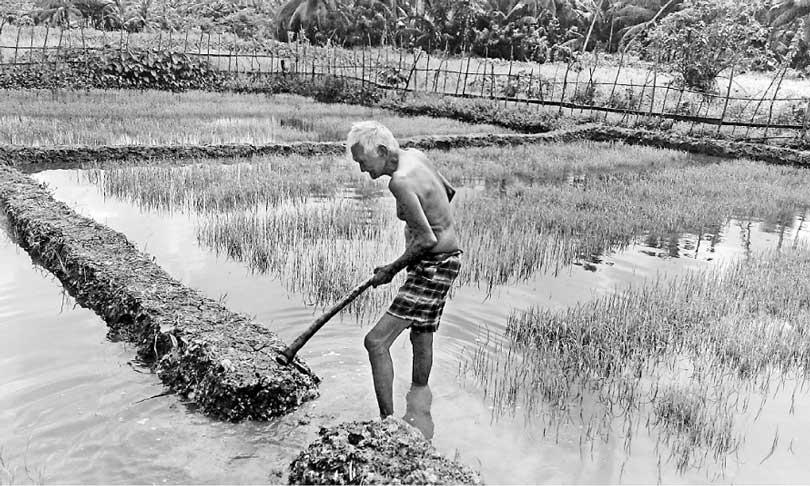 Farmers raise concern of flood risk
81-years-old fights with the abandoned land to make it viable
By Tissa Kottinkaduwa
An 80-acre paddy field belonged to the Ja-ela Agrarian Service division at Batagama-South, Kapuwagara in Ja-Ela is currently being filled, Batagama South Farmers Organisation's Secretary Aloysius Saparamadu said.
Mr. Saparamadu said due to these unscrupulous activities, five Grama Niladhari Divisions in the area are at risk of being
inundated by floods in the near future.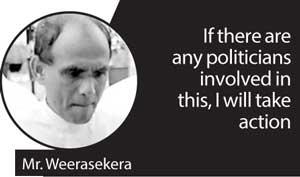 "During the Monsoon a flood situation may arise due to blockage of rivers and streams and thousands of families in Malu Eliya, Doowa, Idiminna, Kapuwagara and Dolahena areas will be severely affected as they are at risk of damages to life and property ," Mr. Saparamadu said.

He said the ownership of the farmland has fallen into the hands of a group of businessmen, surpassing the inherent farmers.
these businessmen have started illegally filling of the land using garbage and soil with the blessings of a local politician.

He showed that although the farmers work hard to obtain a good yield from their farmlands, some people are trying to convert farmland where a h ealthy yield of paddy could be obtained .
The practice of cultivating bananas, coconuts, pineapples, on paddy land has hastened the conversion of paddy land. This is very unfortunate. This farmland was maintained well by professionals and it brought in a high yield of paddy in the past. Therefore the Farmers Organisation were determined to commence cultivation of paddy," he said.
At a time where most parties said paddy cultivation in these 80 acres of land was impossible, the Batagama South Farmers Organisation accepted the challenge of cultivating paddy in the plot of land.

A group of active members of the organization then cultivated paddy in about one acre of the land after clearing the land of wilderness.Subsequently they were rewarded with a successful yield. Through this they were able to prove that paddy cultivation was possible in this farmland.
Mr. Saparamadu was praised by the Divisional Secretary P. A. A. S. Weerasekara for his efforts in obtaining successful results from the cultivation of local paddy in an acre of land where paddy was not cultivated in 30 years.

Batagama farmer Aloysius Saparamadu says, "I am now 81 years old. I have been a farmer for a long time now. I will always be a farmer. Today especially the young generation is not interested in farming. Some people even keep obstructing our efforts in farming. Just look this tilled paddy field."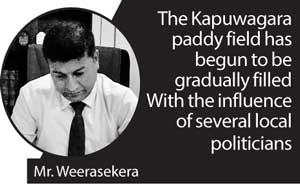 P. A. A. S. Weerasekera, Ja-Ela Divisional Secretary, said that paddy cultivation in the old paddy field could be utilised by cultivating a variety of local paddy in the midst of the difficulties, thanks to the farmers community led by Aloysius Saparamadu."Therefore, he should be respected by all.

At the same time, the Batagama farming community has been exemplary to the youth by encouraging the cultivation of paddy in the urban areas such as Ja-Ela," Mr. Weerasekera said.
Farmers in Batagama are devoted to the farming profession. With the blessings of several local politicians, this fine Kapuwagara paddy field has begun to be gradually filled with earth.
However, when contacted, Ja-Ela Agrarian Services Officer Udaya Rangajeewa said filling of unused paddy fields without proper permission will not
be permitted.

He also said he will make available all facilities and requirements of the farmers to cultivate and till the Kapuwagara paddy field which has remained untouched for over 30 years.
Sydney Mendis, who represents the South Batagama Division of the Ja-Ela Pradeshiya Sabha, said , "the area is facing severe environmental problems due to the reclaiming of abandoned paddy fields such as the South Batagama Kapuwagara field. Not only several paddy fields but also many houses have been subject to flooding. Even today a politician is in action filling a part of the South Batagama paddy field. This has to be stopped immediately."

Meanwhile, Chairman of Ja-Ela Pradeshiya Sabha, Chandrapala Madurapperuma said the Pradeshiya Sabha will not grant permission to illegally fill any land.

"Filling of abandoned lands will make a grave impact on the lives of the under privileged community. If there are any politicians involved in this, I will take action irrespective of the party to which they belong to. I requested in writing from the Agrarian Services Office of Ja-Ela to inform me beforehand if they are giving permission to fill barren paddy fields and low lands within the Ja-Ela PS Division.

Specially, its not my concern how powerful a person or a politician involved in illegally filling barren paddy fields. I ask of the relevant authorities to take legal action against the perpetrators without hesitating," he said.