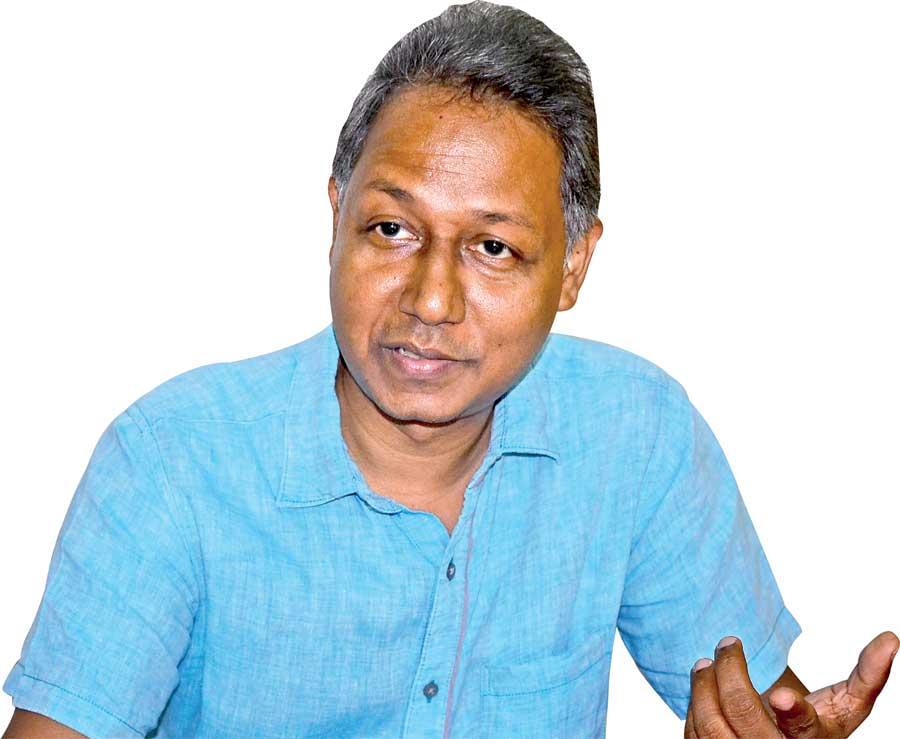 PIC BY WARUNA WANNIARACHCHI
A festival of three plays, written and directed by dramatist Rajitha Dissanayake, will commence tomorrow (24) and continue on 25 and 26 January at the Lionel Wendt. The event marks 25 years of Dissanayake's plays being performed at the Wendt. It starts with Sihina Horu Aran (Dreams Robbed), which will feature an all-new cast. On 25 January is Hithala Gaththu Theeranayak (A Well-Made Decision), and the festival ends on 26 January with Nathuwa Bari Minihek (A Man Much Needed). Daily Mirror spoke to Dissanayake on his 25 years in mainstream theatre, and issues related to art and politics during this period. Excerpts:

Q. Looking back at your 25 years performing at the Lionel Wendt, what do you feel?

Although I began mainstream plays at the Wendt 25 years ago, I started dramas locally and at university seven years before that. The '88-89 insurrection delayed our campus entrance by two years, during which I began producing plays. I did Sakwadawala in my final year in Colombo University, and on 8 January 1995 we moved it to the Wendt.

Theatre is an aesthetically pleasing medium. So I wanted to communicate my thoughts, observations, experiences and pain through this medium. My plays reflect my comprehension of life, society, politics and human relationships. My characters ask the questions I want to ask. Their conflicts are the ones I want to express. They enact the internal discussions I have with myself. My ongoing attempt is to give a more complete theatrical expression to these issues.
Q. The late Jayalath Manorathna said that art is the act of giving shape to ones experiences. What do you feel about this?

Jayalath Manorathna was both an acclaimed actor and director. As an actor, he channelled his life experiences into his craft and characterisation. As a director, his plays emerged from a process of study and research, be it history or folklore. His art was nourished by a combination of life experience and academic study. I feel his life experiences had more influence on his art. This made Manorathna stand out as a unique and much-loved dramatist.
Q. Your dramas deal with the socio-political contexts of the time. How have you responded to the changing economic, social and political contexts over time?

I wrote Sakwadawala in 1994 when society was undergoing many political, economic or cultural changes. The government of the 1977 open economy had changed and the '88-89 insurrection and state oppression had ended. People demanded justice for atrocities and a return to stronger welfare measures. They mobilised for causes like rule of law, justice, peace, media freedom, anti-corruption, democracy and economic equality.

But nowadays people don't expect social change to accompany government change. The drama Weeraya Marila reflects the breakdown of the social aspirations of the 1990s and the emergence of individual aspirations in the 2000s. The play Sinhina Horu Aran also challenges and futility of individual aspirations while critiquing misguided social aspirations.
Q. You say your writing is an internal discussion. How does this transform into an external discussion with your cast and audience?

I engage in a continuous and open dialogue with my cast. This encourages us to think independently and critically about various issues. The process of 'thinking' is restrained in today's society. Artists should think about their roles both on and off stage. The rehearsal process allows for this.

The audience also helps a cast and play grow. For example, some cast members had doubts about Weeraya Marila. But when the audience responded positively, their doubts faded. Audience responses also vary and evolve. Only a few initially appreciated Adara Wasthuwa. But years later, many grew to appreciate it in the context of the behavior of certain real-life media bosses and politicians.

Both audience and actors engage with a play. The time spent sharing, practicing and discussing issues with fellow artists is invaluable. When a play becomes public, it engages with the audience. Theatre can build like-minded alliances among artists and audiences, and thereby create a wider space for thinking, reflection and community discourse.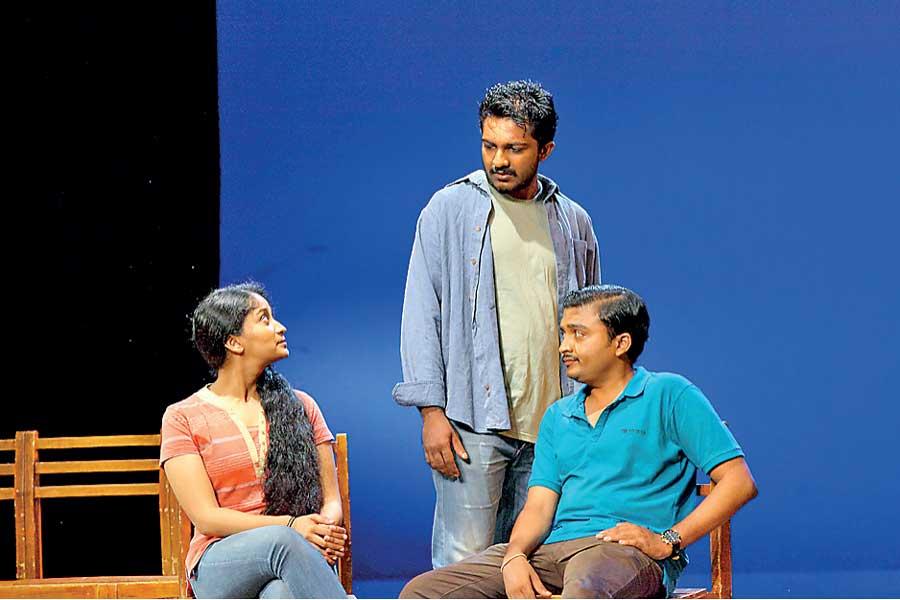 Sihina Horu Aran
Q. Some of your plays like Weeraya Marila, Apahu Harenna Baha and Adara Wasthuwa have depicted the future behaviour and practice of the corporate media. How did you muster this foresight?

I studied journalism in university and joined SLBC, which was built on the Public Service Broadcasting (PSB) model. Until then, the public obtained radio licences to tune in to programmes produced without commercial advertising. But unfortunately the public saw these licenses as a burden. So when licenses were abolished, people felt like a tax had been lifted. Mr. Tilak Jayaratne, who I greatly admire, lamented this change. He instilled in us an appreciation for the PSB model. But as this model ended, I began to understand how much the media could influence people's thinking.

After 2000 the media began directing society. It directed people's thought patterns, and companies directed the media. They targeted consumers to sell their products. We consider teachers, journalists, artists, the clergy and politicians as societal leaders. But they in turn are controlled by the agendas of media bosses. So society is controlled by power and profit.
I explored the media manipulation of war, and how media bosses influence politics. And certain satirical dramatic depictions have recurred in real life. Citizens who challenge these practices must be strengthened. This is not a harmless situation. These practices are specifically designed to trap people into a certain economic and political orbit.
Q.You mentioned public service broadcasting. Likewise, is there space for public service theatre?

Our plays are public service dramas of sorts. They highlight ordinary people's issues, and are not sanctioned by corporate sponsorships. Rather they're maintained on public ticket sales. There are some corporate sponsors, but Sri Lankan theatre is largely dependent on the public. Producing plays can be expensive. Actors are underpaid, or get no pay at all. If we can develop a better mechanism to make drama more accessible to a wider audience for a reasonable price, then we can build a better public service theatre.
Q.Can art change society?

Rather than change society, art can widen our understanding of society. That is the fundamental role of art. That's the role of art, media and education. Art can achieve this through entertainment. But art cannot create a perfect society and undo all its evils and inequalities. Art also helps you to be self-critical and inward looking, and not just outward looking. Art holds a mirror to the dictatorial tendencies in us all, as we face certain situations and play certain roles.
Q.The Sihina Horu Aran cast is a young, new cast. Are you handing over the baton to the next generation?

The original cast were my contemporaries. But, like me, they have aged, while the characters are young. Most of the new cast haven't even seen Sihina Horu Aran. But they are showing tremendous commitment and dedication. We must build a new generation of dedicated artists who can take this work forward. Many young artists have hopes for a long-term association and commitment to theatre. The audience remembers this play during its peak. The new cast will be compared to this, and that's a challenge. But I'm sure they will be up to the task.