Britain's PM critical at ICU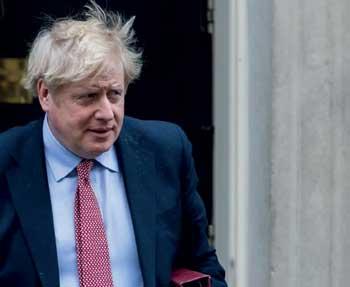 By Sandun A. Jayasekera
While the world remained shocked and dismayed with the news that the most famous world leader, who has fallen victim to the dreaded viral infection, British Prime Minister Boris Johnson (55) remained critical at the ICU of the St. Thomas Hospital in London yesterday, China became the first country that successfully controlled Covid-19.
In China, there was not a single death reported in the 24 hours ended 12.00 noon yesterday from where the viral endemic spread to other countries.

The death toll remained at 3,331 yesterday as of Monday, from a rapidly decreasing number of infections in mainland China. The rapidly spiraling trend of Covid-19 continued in 208 countries yesterday with the US having been branded as the epicenter of COVID-19 Meanwhile, in mainland China only 6 patients had died in the 24 hours that ended at 12.00 noon yesterday.

Among other world leaders who have fallen victim to the viral infection and recovered are Canadian Prime Minister Justin Trudeau and his wife who have been in self-imposed quarantine.

Prince Charles (71) underwent a 14-day quarantine after tested positive in late March and has recovered fully.
Miami Mayor Francis Suarez, also tested positive and is in self isolation. Australian Home Affairs Minister Peter Dutton had tested positive as well.

A delegate from the permanent mission of the Philippines to the United Nations (UN) also tested positive. Ali Akbar Velayati, a top adviser to Iran's supreme leader, has been quarantined. Seyed Mohammad Mirmohammadi, a senior Iranian official infected with the virus, passed away at a Tehran hospital.
In Spain, the Minister of Equality Irene Montero tested positive for COVID-19 and her partner, Second Deputy Prime Minister Pablo Iglesias, was quarantined.

Oscar winner Tom Hanks and his wife Rita Wilson both tested positive for Covid-19. Arsenal manager Mikel Arteta tested positive for Covid-19, the Premier League club confirmed late on Thursday evening. Their London Colney training center has been closed. The National Basketball Association (NBA) season was postponed indefinitely, after Utah Jazz superstar Rudy Gobert became the first NBA player to contract the virus and his teammate, Donovan Mitchell, also tested positive for the virus.