By Yohan Perera and D. M. Withanage
UNP Gampaha District MP Ruwan Wijewardene over the weekend called for unity among the UNPers to face the upcoming General Elections.
Speaking at a public gathering organised by him in Biyagama on Saturday, Mr Wijewardene said all in the UNP should work together and towards the party's success at the future elections.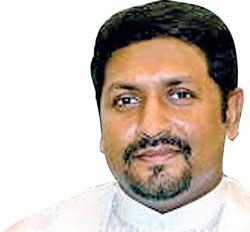 "One should understand the consequences if the present government obtain a two-thirds majority in Parliament at the next general elections. Therefore, all in the UNP should come together in avoiding destruction that would affect the nation if the government secures a two-thirds majority in Parliament," Mr Wijewardene said.

He said UNP should re-organise itself and face the General Elections.

Also, he said Leader of Opposition Sajith Premadasa is a person who could render a great service to the UNP.

Mr Wijewardene recalled that everyone in the UNP including the party activists in the Biyagama were fully committed to the victory of Mr Premadasa at the last presidential elections but the latter lost the poll as people in this country put security as a priority after the Easter Sunday bomb attacks. "SLPP won the presidential election as they harped on the security issue during the election campaign," he added.