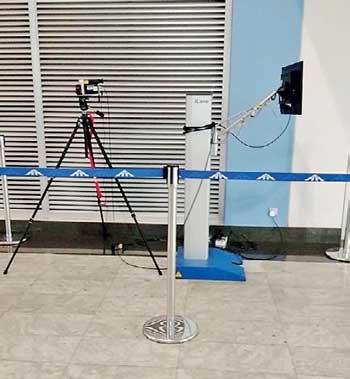 By Chaturanga Samarawickrama and T.K.G. Kapila
Three Infrared Thermal Image Scanners (ITIS) are installed at the arrival terminal of the Bandaranaike International Airport (BIA) to detect and mass screening of passengers arriving with high body temperature due to corona virus, an airport senior official said.
According to records at the airport, about 1,000 Chinese passengers arrive from Beijing, Guangzhou and Chengdu in China by four flights every day. Several discussions were held in this regard at the airport premises with the participation of the World Health Organisation (WHO) Health Ministry, Civil Aviation Authority and several officials.

The common signs of infection include respiratory symptoms, fever, cough, shortness of breath and breathing difficulties. Patients with similar symptoms to the corona virus had been reported in countries like Japan and Thailand. Several flights are being operated among these countries. Accordingly, flight crew including pilots are advised to report to the airport medical unit.

The Immigration and Emigration officers at the airport are also advised to report about such patients to the airport medical unit.