Says presidential poll is about the individual, not symbol or party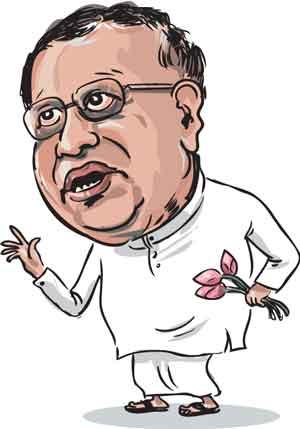 By Lahiru Pothmulla
MP Susil Premajayantha yesterday invited SLFP Secretary anad MP Dayasiri Jayasekara not to hang onto the symbol of the SLPP if the latter's candidate and the principles are compatible with the SLFP.
The former UPFA general secretary said once the presidential election nominations are handed over to the election commission, the party secretary would have no further involvement in the process.

"According to the clause 31 of the Presidential Elections Act of 1981, the candidate can appoint an agent and it is that agent who has the power to appoint the counting agents or polling agents. If an agent was not appointed, the candidate should appoint district officials," the MP said speaking at a news briefing held at the Opposition Leader's Office.

He said the presidential candidates were later asked by the election commission for the name they preferred on the ballot paper. "This shows how important the candidate is. According to our Constitution, the Executive President is an individual, not a party nor symbol. Therefore, I invite MP Jayasekara to go through the Presidential Elections Act without worrying over the symbol," he said.

He said there was no need for dilly-dallying if the SLFP agrees to the principles and the candidate of the SLPP. "That's all what is needed. The SLFP had 36 MPs by November last year and the number has reduced to 14 today. If more time is taken to make a decision, the number could even reduce to seven by the time the nominations are handed over. This is as a result of the immature decisions taken by the recently appointed SLFP officials," he said.