And the selection of a new leader
Says he will step down from post of leader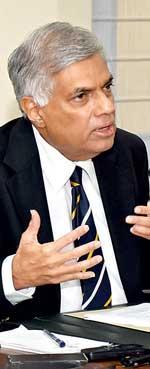 By Yohan Perera
United National Party (UNP) Leader Ranil Wickremesinghe has asked party seniors to finalise plans to restructure the party and the selection of a new leader and to submit their proposals at the next working committee meeting, the party said in a statement yesterday.
"Mr. Wickremesinghe told the seniors and former MPs of the party on Monday that the UNP needs a new leader," it said.

The working committee meeting is to be held on Friday. Meanwhile, it was reported that Mr Wickremesinghe had also informed UNP seniors that he would vacate the post of party leader no sooner a new leader was appointed.