Government will maintain good relations with US, China
Chinese Embassy accused the US of interfering in China-Sri Lanka relations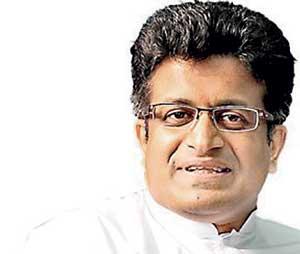 By Easwaran Rutnam
Sri Lanka will not allow its soil to be used as a battleground by global superpowers. Cabinet co-spokesman Udaya Gammanpila said that Sri Lanka is committed to maintaining its sovereignty.
He also said that Sri Lanka will maintain cordial relations with both the US and China.
"We will also ensure Sri Lanka is not a battleground of the superpowers. That is for sure," he said.
His comments came after the Chinese Embassy in Sri Lanka launched a scathing attack on the US just hours before US Secretary of State Mike Pompeo was to arrive in Sri Lanka.

The Chinese Embassy accused the US of interfering in China-Sri Lanka relations.
The Embassy had said that Deputy Assistant Secretary of State Dean Thompson openly instigated and interfered in China-Sri Lanka relations during a press briefing on Secretary Pompeo's visit to Sri Lanka.
However, Gammanpila said that Thompson had been misquoted by the media.

Cabinet co-spokesman Keheliya Rambukwella said that the US is an important trading partner for Sri Lanka.
He said that Sri Lanka will discuss trade agreements with the US and other countries as well.
Meanwhile, Gammanpila said that Sri Lanka will not sign the Millennium Challenge Corporation agreement or the Status Of Forces Agreement (SOFA) with the US.

The former government had decided to sign the two agreements with the US.