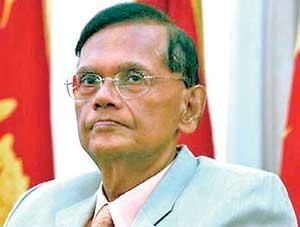 By Kelum Bandara
The government will scrap four of the clauses in the 20th Amendment, that require approval of the people in a referendum in addition to a two-thirds majority in Parliament, and incorporate fresh changes in their place in accordance with the Supreme Court determination, a minister said yesterday.
The ruling Sri Lanka Podujana Peramuna (SLPP) briefed its MPs at a meeting presided by Prime Minister Mahinda Rajapaksa yesterday.

At the meeting Minister G.L. Peiris elaborated on the four aspects to be changed in accordance with the court ruling so as to avoid a referendum.

He said the 19th Amendment envisaged that it was the duty of the President to ensure a free and fair election, but it had been dropped in the draft of the 20th Amendment. The Minister said it would be reintroduced in the 20th Amendment as suggested by the Supreme Court.

The 19th Amendment says the neglect of duty by public servants regarding directions by the Election Commission on matters connected to the conduct of elections is a criminal offence. The government will include the same in the 20th Amendment in keeping with the court determination.

The original draft of the 20th Amendment says the president can dissolve Parliament after one year. However, the government will accommodate the Supreme Court determination in this regard by making such dissolution possible only after two and half years.
The original draft of the 20th Amendment says the president can dissolve Parliament after one year. However, the government will accommodate the Supreme Court determination in this regard by making such dissolution possible only after two and half years