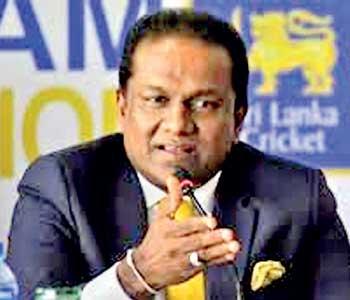 By Sandun A. Jayasekera
The SLFP would contest the General Election under the SLFP – SLPP led alliance, Sri Lanka Podujana Peramuna (SLPP), with the chair as the symbol, Technology and New Inventions State Minister Thilanga Sumathipala said.
Minister Sumathipala, who is also the SLFP organiser of Moratuwa, reiterated that party chairman, former President Maithripala Sirisena would lead the Parliamentary Election campaign of the SLFP and enter Parliament contesting from the Polonnaruwa District.

In response to the Daily Mirror at yesterday's news briefing in Colombo, Minister Sumathipala said a few SLPP and SLFP politicians have made different views on how the two parties would contest the general election, but a firm decision has been taken on the matter by both parties.

"We have signed an agreement to contest the Parliamentary polls under the SLPP. There is no reason to change this stance and the biggest victory could be achieved only if we contest the election under the SLPP with the Chair as the symbol," he added.

Minister Sumathipala said President Gotabaya Rajapaksa is dedicated to bring the country back from the dark era of the last five years to a country of hope.
"Our objective during the Presidential campaign was to ensure the victory of President Rajapaksa and to bring stability to a shattered country and I am glad we were able to achieve that victory," Minister Sumathipala stressed.

The Minister said the UNF must agree to dissolve parliament immediately as they have no mandate now, having lost confidence twice among the voters, at the Local Government polls in February, 2018 and at the Presidential election on November 16.
"On October 26, last year, there was a regime change when former President Sirisena appointed former President Mahinda Rajapaksa as the Prime Minister, replacing Prime Minister Ranil Wickremesinghe. The Parliament was also dissolved soon after that. But the Supreme Court gave a ruling against these actions and restored the Wickremesinghe regime. But the people have endorsed what happened in October 26, 2018 by electing Gotabaya Rajapaksa as the President," Minister Sumathipala said.