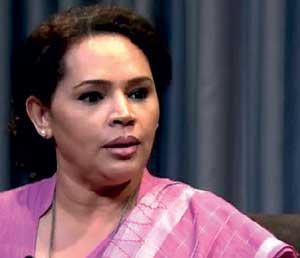 By Yohan Perera and Ajith Siriwardana
Samagi Jana Balawegaya (SJB) MP Diana Gamage yesterday said she would continue to support President Gotabaya Rajapaksa to build the nation.
Speaking during an adjournment debate in the House she said she decided to support President Gotabaya as she felt he is capable of building the nation. "During his tenure as the Defence Secretary he did a lot of work. Thousands use walking tracks built by him," she said.

She said the country does not need a President without powers. "We need a powerful President. Why should we spend funds and hold a presidential election and tie the President's hands and throw him into a river expecting him to swim? He will not be able to swim when his hands are tied," she added. "I would have voted in favour of the 20th Amendment even if Sajith Premadasa was the President of this country."