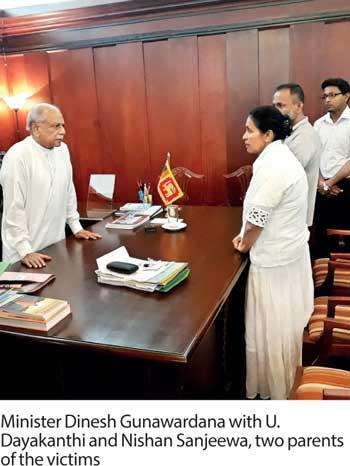 By Sandun A. Jayasekera
The remains of three Sri Lankan students – who died at Baku in Azerbaijan due to toxic suffocation after a fire broke out in the building they occupied – are expected to be brought to Sri Lanka today with the assistance of the Foreign Affairs Ministry.
When family members of the victims – of whom two were sisters – met with Foreign Affairs Minister Dinesh Gunawardana last morning at his office, the latter said the government would provide financial assistance of Rs.500,000 to each victim to facilitate airlifting their bodies to the country.

A discussion was scheduled yesterday between authorities of the Azerbaijan Government and officials attached to the Sri Lankan Embassy in Teheran to expedite the process. A postmortem was expected to be held last Sunday.

Malsha Sandeepani (23), her sister Tharuki Amaya (21) from Bokundara and Hansi Madhubashini (25) from Pahala Biyanwila succumbed to toxic suffocation after the upper-floor of the apartment they occupied filled with smoke due to an inferno on the ground floor on January 3. They were following a language efficiency course in English at the Western Caspian University in Baku so that they could pursue degrees in IT and fashion designing. The two sisters and the other had not known each other until they arrived in Azerbaijan mid last year. The parents of victims thanked the minister for his decision to support them at this hour of grief and said they sent their children to Azerbaijan for studies after mortgaging their properties and selling jewellery. They also said they were indebted to banks as well as various individuals.