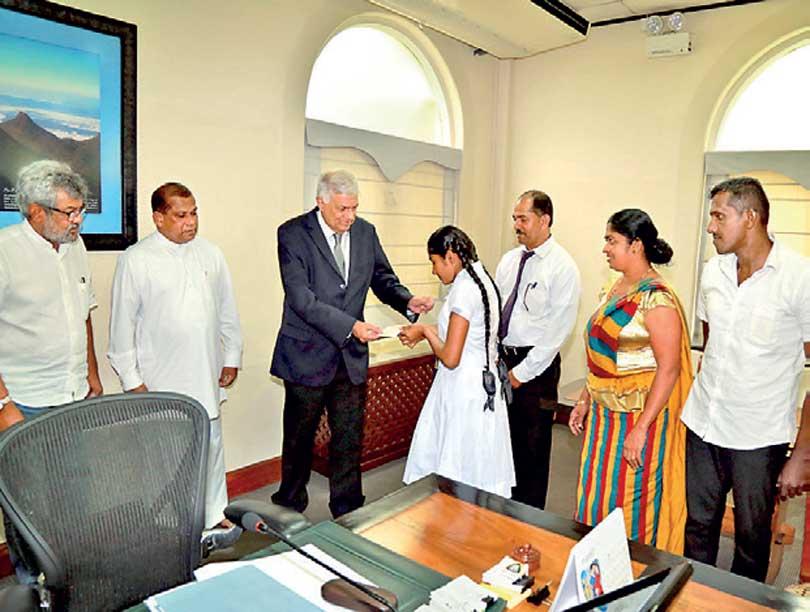 Acceding to a request made by schoolgirl Dulanjalee Dissanayake, a resident of Moneragala, Prime Minister Ranil Wickremesinghe is reported to have made arrangements to launch a scholarship scheme to help her in her studies. '
Dulanjalee's mother is suffering from terminal cancer
A statement from the Prime Minister office said the girl is studying in the GCE A/L arts stream at the Madulla MMV in the Moneragala District.

The Prime Minister and Public Administration Disaster Management and Rural Economy Minister Ranjith Madduma Bandara had launched the scholarship to assist her till she gained entrance to the university.

It was revealed that Dulanjalee's mother is suffering from a terminal cancer and that she had appealed to the Prime Minister to assist her with her studies. The girl's father is unable to engage in any job because he has to look after his wife.

Dulanjalee and the Madulla MMV Principal thanked the Prime Minister for assistance.

"I thank the Prime Minister for awarding me a scholarship and for helping me at my needy hour. I became helpless when my mother fell ill as my father had to give up his job in order to look after my mother," she said.
I thank the Prime Minister for awarding me a scholarship and for helping me at my needy hour. I became helpless when my mother fell ill as my father had to give up his job in order to look after my mother