Locomotive engines imported at a cost of Rs. 110 million each from India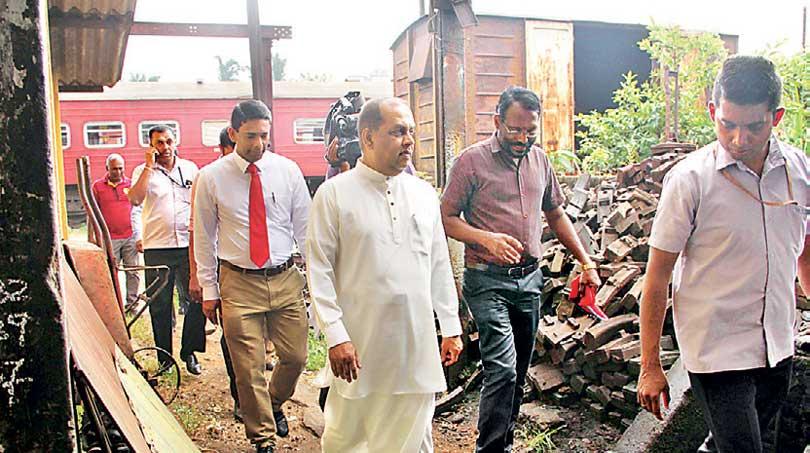 By Sandun A. Jayasekera
Power, Energy and Commuter Transport Management Minister Mahinda Amaraweera had a shocking experience yesterday when he witnessed the dismantling of brand new and unused locomotive engines imported at a cost of Rs. 110 million each from India for locomotive spare parts as new engines cannot be used in Sri Lanka's railway lines.
During the tenure of the Yahapalana government, the Sri Lanka Railways (SLR) has imported ten locomotive engines from India at a cost of Rs. 11 billion.
It has been revealed after delivery that ten locomotive engines imported from India were not suitable to be run on Sri Lanka's rail roads.
"The maximum weight of a locomotive engine that runs on our railway lines is 80 metric tons. But these Indian engines weigh about 120 metric tons. Besides, they are longer than the locomotive engines run on our rail roads," the trade unions of the SLR have complained to Minister Amaraweera.

Two engines had derailed and toppled during a test run and the railway line was also damaged heavily, they have said.

Surprisingly, a former General Manager of Railways and a team of locomotive engineers had visited India before placing the order for locomotive engines.

Minister Amaraweera was highly disturbed when he paid a visit to the Dematagoda railway yard and saw the destruction caused to new locomotive engines dismantled and knocked down for spare parts.

"Minister Amaraweera promised Trade Union representatives that he would inform President Gotabaya Rajapaksa and Prime Minister Mahinda Rajapaksa on this crime and appoint a high powered committee next week comprising suitable professionals with no connection to the SLR to go deep into the issue and submit a report, " a spokesman of the Ministry said.
a former General Manager of Railways and a team of locomotive engineers had visited India before placing the order for locomotive engines