He had allegedly asked for money from his friend in June for the election campaign of his father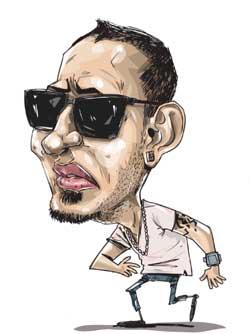 By Sheain Fernandopulle
Former Minister Mervin Silva's son Malaka Silva was arrested yesterday for posing death threats and soliciting money from a businessman, Police said.
The businessman had earlier complained to the Thalangama Police over death threats.

Malaka Silva had allegedly asked for money from his friend who is a businessman in June for the election campaign of his father.
According to facts reported to the Magistrate Court, initially, the friend has agreed to make a small donation to get the posters printed.

However, Malaka Silva has insisted the friend to give Rs.100,000 for printing of T-shirts but the businessman had refused.

Subsequently Malaka had posted on his Facebook page on July 15, with a distorted picture of the friend, saying 'this man has gone missing since the day I asked him to give money for the election campaign. Please help me to find him'. His friend urged him to remove the post. However, Malaka declined to do so.