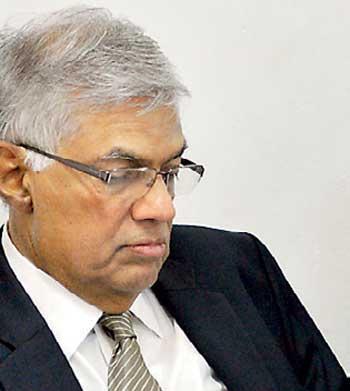 By Yohan Perera
Prime Minister Ranil Wickremesinghe yesterday said that the Government will establish a new public school system that is not based on language or religion within next two years.
Further "All religious education institutes will be regulated under the purview of Ministry of Education." It was already decided with the concurrence of the Muslim Ministers and the MPs that Muslim Religious Education institutes to be monitored by 'Muslim Education Institute Regulation Board' which Is to be established under the purview of Ministry of Education," the Premier said.

The Prime Minister expressed this sentiment at teaching diploma certificate award ceremony at Temple Trees last morning.

"Late Prime Minister DS Senanayake stated that every citizen in this country should think as Sri Lankan's. However later in the 1970s there was an ethnic and religious polarization. There came to be a system in the education sector where schools were decided on the basis of religion and ethnic groups. There were catholic schools, Buddhist schools, Hindu schools and Muslim Schools. Distancing of people into communities and religions led to dangerous consequences such as July 1983 communal riots" the Prime Minister said. "Government has decided to create a situation where people are able to get together again and think as Sri Lanka. As per this concept we have decided to make religious and communal based schools open to all students. There is no issue in naming a school after a saint or a religious leader but students of all communities and religious groups should be allowed to attend the schools. It will take some time for the schools to get used to this system but it has to be done" he added. The Premier said government will welcome the ideas of others as well and decide on the policy accordingly. "SLFP had already come up with some useful proposals and we expect a dialogue with other parties as well," he said

Also, he said the government will initially introduce Madrasa Schools Regulatory Bill. Madrasas will be brought under a board which will be appointed by the Ministry of education. The University Act will also be amended in order to ban Shari'a Universities, Prime Minister Wickremesinghe added. He said all international schools will also be brought under the Ministry of Education and they will be made to introduce local syllabuses. A study will be conducted on the Singaporean education system to see whether Sri Lanka could follow it as a role model. The Prime Minister congratulated the diploma winners, the intention of the government is to give more appointments to trained teachers like in many other countries. "The objective of giving appointments to only trained teachers is to maintain the quality of education", he concluded.
---
PM at teaching diploma awards ceremony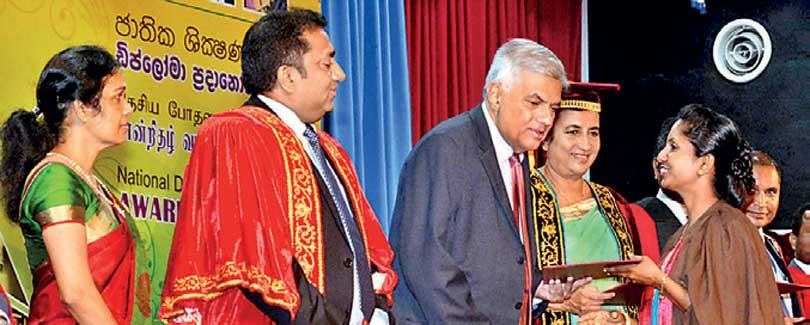 Prime Minister Ranil Wickremesinghe was the Chief Guest at the teaching diploma award ceremony of National Education Institute in Temple Trees on May 22, 2019 where he said the government will abolish the religious and ethnic based school systems in the country. Minister of Education Akila Viraj Kariyawasam, State Minister of Education Vijayakala Maheswaran and NIE Director General J. Gunasekara was also present.
Pic by Pradeep Pathirana