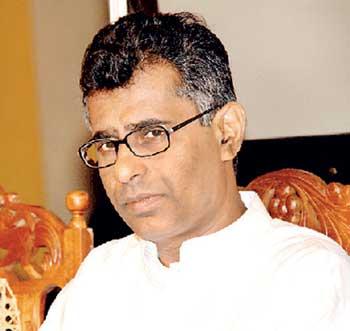 By Sheain Fernandopulle
While stressing that the 19th amendment arbitrarily crippled the powers of the President, Megapolis and Western Development Minister Patali Champika Ranawaka said the future president would still be powerful.
Addressing an election rally at Anuradhapura, he said although the president would be powerful, there should be a Parliament majority for him to maintain a stable Government.
"The main issue that prevailed during the past four years was that the President did not have a majority in Parliament, which eventually led to the constitutional impasse on October 26 last year," Minister Ranawaka said.

He said some were attempting to raise and generalize the point that the future President would be nominal and it would be the Prime Minister who had more powers.
"It is true that the 19th amendment has made President accountable to Parliament and the Judiciary, Minster Ranawaka said.

However, he said the future President would be the head of State, Government, Cabinet and the commander of the tri-forces.

Moreover, he said although the President whom they brought, did not have the parliament majority in 2015, they would form their own Government this time.
"We are very confident that we would be able to win the presidential election and obtain 113 seats in Parliament holding the majority power," he said.