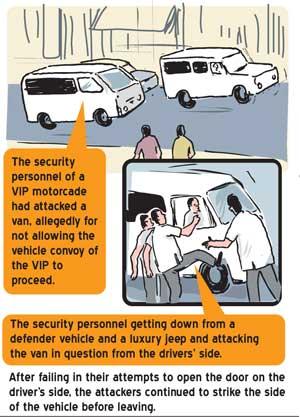 By Darshana Sanjeewa Balasuriya
Four suspects who were arrested over an attack on a van at Kalagedihena, have been remanded till today for an identification parade by the Attanagalle Magistrate's Court.
The suspects were arrested after they surrendered to the Colombo Crimes Division (CCD), police said. The Defender Jeep (CAD-8850) involved with the incident was found from Elhena Road Maharagama on Friday. The Driver of the Defender and another individual, who were involved in the attack, surrendered on Friday while another two surrendered on Saturday. They were remanded on Saturday.

The incident was reported from Kalagedihena on Thursday in which bodyguards of a tuition master had attacked a van for allegedly not allowing their vehicle to proceed.
The violent attack, captured on camera, had taken place on the Colombo - Kandy Main Road at Kalagedihena. Investigations are in progress to know whether tuition master Dinesh Nuwan Amaratunga was involved in the attack.