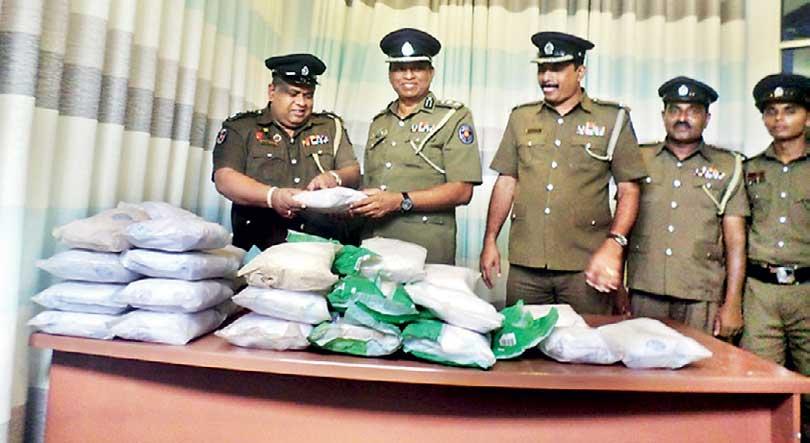 By Pushpakumara Mallawarachchi and Hubert Fernando
Four suspects including a 24 year-old woman were arrested last morning with 34 kilograms of heroin worth more than Rs. 400 million during a raid on a house in Divulapitiya, Police said.
The raid was carried out on information received that drug trafficking was taking place at a house. '

The 36-year-old suspect who was the leader in this case was identified as a leading mobile phone seller in Divulapitiya. He was arrested together with his two brothers aged 23 and 28. The woman suspect was a resident from Opanayaka area.

Police received information regarding the woman who lived alone in a two-storeyed house, paying a monthly rent of Rs.25,000. Complaints were also received regarding modern vehicles that visited this house regularly.

The stocks of heroin were found hidden under a bed, inside milk powder packets and ballpoint pen packets and was packed into 34 parcels weighing one kilogramme each.
A modern vehicle which was used to transport the stocks of heroin, was also taken to Police custody. The owner of the house was in Italy.

Divulapitiya Police are conducting further investigations, with detention orders.
The stocks of heroin were found hidden under a bed, inside milk powder packets and ballpoint pen packets and was packed into 34 parcels weighing one kilogramme each