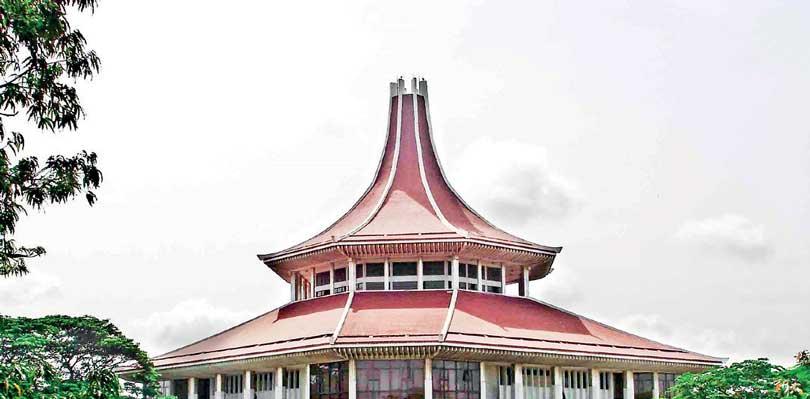 Petitioners satisfied there is now no threat of signing the agreements
By S.S.Selvanayagam
The Attorney General yesterday informed the Supreme Court that the new government had not taken any decision to sign the the Millennium Challenge Corporation (MCC) compact, the Status of Forces Agreement (SOFA) and the Acquisition and Cross Servicing Agreement (ACSA) and would revisit and review them with the United States.
The petition challenging the signing of the three agreements were taken up before a five-judge Bench comprising Justices Buwaneka Aluvihara, Lalith Dehideniya, Murdu N.B. Fernando, Prasanna S. Jayawardena and Gamini Amarasekera.
Additional Solicitor General Farzana Jameel appearing for the AG informed Court that these agreements would not be signed until they are revisited and reviewed and that the Court would be informed the stance of the new government.
President's Counsel Sanjeeva Jayawardena said the case was filed on an extremely urgent basis as the 1st Respondent Mangala Samaraweera was about to execute these agreements with the US government and if these agreement were executed, there would be a serious threat to the sovereignty and the territorial integrity of Sri Lanka.
He said however, in view of the decision of the present government to revisit and review these agreements, the petitioners are satisfied for now that there was no immediate threat on signing the agreements.

The counsel said it was not the MCC agreement which they were concerned about because the MCC looks like a mere outright grant to the Sri Lankan government but it should be understood that the real reason for this outright grant is for the execution of very dangerous and heinous SOFA agreement which allows the US military to supervise access and movement within Sri Lanka without the contros of Sri Lanka.

The Court fixed the matter for March 25. A petition was filed by Dr. P.S.M. Anuruddha Bandara Padeniya, Dr. Haritha Punu Aluthge, Dr. A.K.A Samantha Kumarasiri Ananda, Dr. H.N. Deshika Soysa and the Government Medical Officers' Association.
The 2nd petition was filed by Ven. Angulugalle Siri Jinanda Thera, Ven. Bengamuwe Nalaka Anunayake and Ven. Madegoda Abhayathissa Thera.
The 3rd petition was filed by Attorney-at-law Dharshana Weraduwage.
Three fundmental rights petitions filed against the agreements