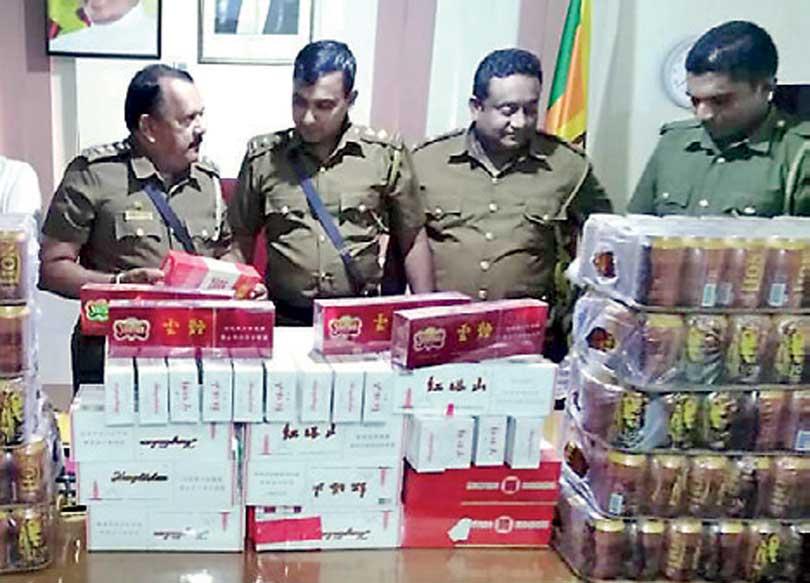 By Kurulu Koojana Kariyakarawana
A large stock of illegal Chinese cigarettes was seized by Excise officials who raided a construction site in Wattala run by a leading private hotel and travel company, where several hundred Chinese labourers work.
Excise Colombo City Station officials, on information received by Deputy Excise Commissioner (Legal) Gamini Adhikari, raided the construction site in Hendala, Wattala where they found a stock of illegally imported cigarettes hidden among several crates of local beer from the canteen premises.

Excise sources told the Daily Mirror last evening that they had found 9, 600 sticks of a brand of Chinese cigarettes which had been imported into the country sans paying the Customs duty. They also found 260 cans of local beer from this canteen, which was to be sold without an Excise licence.

The officials had faced much opposition from the group of over 300 Chinese expatriate workers employed at the site who were not at all pleased about the authorities taking away the fags and booze they were all yearning for. The Excise officials had however managed to take the Chinese canteen caretaker into custody along with the contraband. He was to be produced in the Colombo Chief Magistrate's Court yesterday (17).

The detection was conducted by OIC Colombo City Excise Station Chanaka Nanayakkara, Excise CI Sandeepa Jayasanka, Inspectors Sanjaya Nishantha and Lakmal Senanayake, on the instructions of Assistant Excise Commissioner K M G Bandara and Excise Superintendent Vijitha Gamnayake.