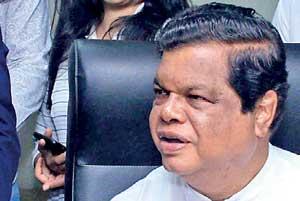 By Sandun A. Jayasekera
Minister Bandula Gunawardana said the entire government stood for the brave District Forest Officer Devani Jayathilaka who had a crosstalk with State Minister of Inland Fisheries Industry Sanath Nishantha Perera last Monday over protecting the Kadolkele mangrove at the Negombo lagoon.
Responding to a question raised by a journalist during yesterday's weekly Cabinet news briefing, he said if the lady officer made a similar challenge under the previous UNP rule, she would have ended up in remand prison or at hospital by now.

"The Cabinet that discussed the verbal clash between the District Forest Officer and the State Minister accepted that the former had done the right thing. However, I believe the lack of understanding between the duo led to this argument. Nevertheless, I agree that she was right in her attempt to convince the State Minister with the true position of the issue," he said.
Responding to Daily Mirror, the minister said he made a request to President Gotabaya Rajapaksa to set a performance target for Cabinet ministers in the similar manner that gave newly-appointed heads of State-owned ventures to display their skills and abilities.

When Daily Mirror pointed out that most of the appointments of heads to corporations, boards, commissions and authorities were controversial, the minister said the top management would be replaced if failed to show positive results within a year.

"Lucrative government-owned enterprises must maximise profits and minimise waste. Loss-making ones must at least bring the institution to a breakeven. My request to the President was that ministers should also be given a performance target for their particular ministries and those who fail must be removed after two and a half years," he said.