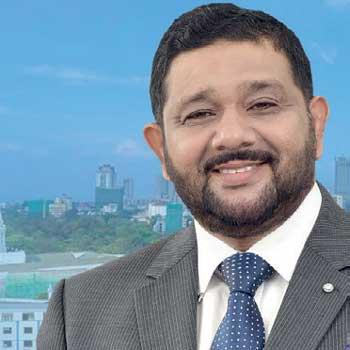 By Yohan Perera and Ajith Siriwardana
Former Governor of the Western Province Azath Salley yesterday said all governments which had ruled this country from 1994 have to be responsible for the prevailing situation in the country since the Easter Sunday bomb attacks.
Mr. Salley said this while testifying before the parliamentary select committee which is looking into Easter Sunday attacks last evening.
"All governments which ruled this country since 1994 have to be responsible for the situation which the country is in especially after the Easter Sunday bombings," Mr sally said.
"We informed all defence secretaries since 1994 in writing and verbally about Thawheed Jama'ath organisation but no action was taken," he added.
He was asked to produce documents to substantiate his evidence but Mr. Salley said he could not bring documents but promised to produce them on another date.
" We provided photographs of Thawheed Jama'ath holding pro IS protests in the East two years ago as well but no action was taken even at that point".
He was asked by the select committee members to come up with dates and places on the incidents he was referring to at this point.
Testifying further Mr. Salley said his PSO informed him about the impending attack on April 21, 2019. " I informed Defence Secretary Hemasiri Fernando on the impending attack and he then summoned a meeting with all officials a week before the Easter Sunday attacks. CID director was at this meeting. Mr. Sisira Mendis also participated in this meeting," he said.
Mr Salley also said at this point that he informed about Thawheed Jama'ath organisation before this meeting took place. Field Marshal Fonseka then requested him to state the date he informed and to whom he had informed. He then assured that he will produce all the dates which he will gather from his diary. " I gave information on Zahran to SIS director five years ago.
Mr. Salley charged that Zahran set fire to more than 120 Muslim houses in Kathankudi in 2017. There were houses of traditional Muslims in 2017. He alleged that the police did not conduct an investigation on it. "People took to the street and protested against Zahran later. He stated that Thawheed Jama'ath and police had associated with each other since 2005.
Salley then said another person named Razik who was also a member of Thawheed Jama'ath and who had connections with ISIS is at large. "During a visit to Batticaloa with the President in 2017 I asked the IGP as to why Thawheed Jama'ath members were not arrested. Then IGP called the area ASP. He had told IGP that he had allowed Thawheed Jama'ath to conduct prayers. On a latter date I asked President Maithripala Sirisena as to why Razik is not arrested. He then took a phone call to IGP. Then whispered over the phone but nothing happened thereafter," he said.
Asked by Minister Ravi Karunanayake whether he approves the statement made by former Governor of Eastern province M. L. A. M. Hizbullah that Muslims are minority here in Sri Lanka but a majority globally, Mr Salley said Mr. Hizbullah might have spoken out of frustration. He then went on to say that Muslims have been affected heavily from the Easter Sunday attacks. He said this is because of the search operations. He said innocent Muslims have been arrested. "We have informed about the extremists but it is us who are at the receiving end," he said.